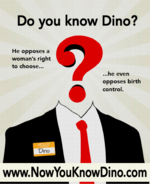 Today is Now You Know Dino Day, a statewide event sponsored by NARAL/Pro-Choice Washington, who wants all our state's voters to know the truth about Dino Rossi's stance on reproductive rights.  For example, did you know that Rossi:
worked against I-120, which codified Roe v. Wade into Washington state law?
voted NO on a bill that would require health insurance companies that cover prescriptions such as Viagra for men to cover birth control for women?
sponsored a bill seeking federal money for ineffective abstinence-only sex-education for Washington schools?
believes pharmacists should be able to refuse to fill doctor-prescribed prescriptions based on non-medical, personal reasons?
compares women's health care to sports drink preferences?
One of the more disturbing things I've seen in poll after poll as that more than a third of pro-choice women don't know that Republicans Dino Rossi and Dave Reichert are anti-choice, opposing not just access to safe, legal abortions, but to contraception and medically accurate sex education.  That's why over 300 volunteers in 15 cities across the state are waving signs during evening rush hour tonight to let voters know the truth about Rossi… that he is bad for the women of Washington state.
If you want to join the effort, go to the Now You Know Dino website for more information.