Caveats abound in any analysis of yesterday's primary election, with low voter turnout, partial results and a first ever top-two format making direct comparisons and general election projections all but impossible.  But trends are trends, and the one that immediately jumped out last night from the very first drop was the dramatic improvement Gov. Chris Gregoire registered in county after county, relative to the performance of her Grand Old Party Party opponent Dino Rossi.  And that can't bode too well for Dino.
The top two format and the lack of any legitimate intraparty nomination battle essentially turned yesterday's primary into a straw poll between Gregoire and Rossi, and so I have chosen to compare the two candidate's relative performance to the last time the two faced off against each other head to head in the 2004 general election.  This is admittedly an imperfect comparison—the primary electorate is not the same universe of voters as that in the general—but far preferable to attempting to draw conclusions from a comparison to the 2004 primary, which might as well have been conducted in an alternate universe.
The 2004 general was of course excruciatingly close:  a legitimate win for Gov. Gregoire under Washington's election statutes, but realistically, a statistical tie.  In Gregoire's favor this time around are the inherent advantages of incumbency, a campaign team that recognizes Rossi as a legitimate threat, and a track record in office that establishes her as a competent, moderate and unscary executive.  In Rossi's favor… lingering, bitter resentment over his almost-victory four years ago.
Opinion polls have long shown the governor with a modest but consistent lead, and after a couple months and a couple million dollars of attack ads, yesterday was an opportunity to see if voters were moving toward one candidate or the other.  And, well, it's hard to argue that they're moving toward Rossi.
Even with more than a half dozen spoilers in the race compared to the lone Libertarian in the 2004 general, Gregoire has thus far increased her percentage of the vote in 23 of 39 counties, compared to only three such counties for Rossi.  But a more meaningful analysis of Gregoire and Rossi's relative, county by county performance, as illustrated in the chart below, comes from comparing the margin separating the two candidates… a margin that has moved in Gregoire's favor in a whopping 30 of 39 counties.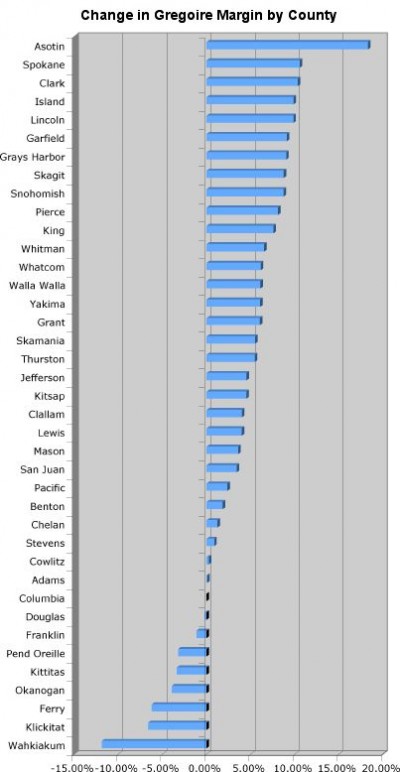 Once King County's votes come in, Gov. Gregoire will likely end up leading Rossi by a roughly 50% to 45% margin statewide, and while it is no doubt tricky to adjust for the impact of minor candidates, there is no reason to suspect that the remaining five-percent of the vote will strongly break one way or the other in the general.  Likewise, there is no compelling evidence that turnout in this primary advantaged one party or the other in any region of the state.  Indeed, yesterday's election proved awfully damn consistent with opinion polls that continue to show Gregoire with a modest but steady lead.
If there is a conclusion to be made it is that this was an opportunity for angry voters to repudiate Gov. Gregoire… and they didn't.
Still, this race is far from over; an awful lot of money will be spent between now and November attempting to sway voters from one side to the other, while the expected crush of general election voters makes any analysis of primary results speculative at best.  But if Rossi supporters were looking for good news in yesterday's results, I don't think they found any.