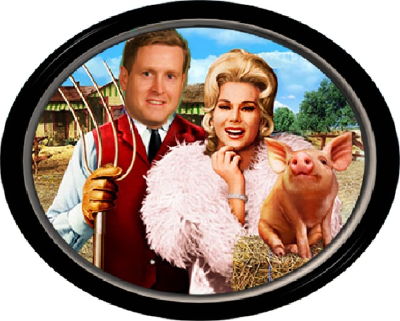 State Rep. Matt Shea (R-Greenacres)
In case you missed last night's post, House Republicans have introduced a butt-load of paranoid, crazy-ass, teabagger bills, in a paranoid, crazy-ass attempt to appease the paranoid, crazy-ass teabaggers threatening to challenge incumbent Republicans from the paranoid, crazy-ass right. And one of the common denominators — other than a shaky grasp of the law that makes Tim Eyman look like a Constitutional scholar — is state Rep. Matt Shea, who has not only signed on as a sponsor to all the bills, but appears as the prime on most of them as well.
Of course, this is the type of craziness we've come to expect of the Republican from Greenacres (no, really… he's from Greenacres), but it's more than a little astounding and embarrassing to see two-thirds of Shea's fellow caucus members join him in such ridiculous political slop. And it's hard for the GOP leadership to complain about being excluded from critical budget negotiations when their members appear to have made provoking a second Civil War their number one legislative priority.
(3) Any action by the federal government, or its agencies or agents, including the president of the United States, the congress of the United States, and the federal courts, against any person in Washington state for compliance with the provisions of this chapter is considered a hostile and unconstitutional action against Washington state and its citizens, and the state of Washington will by all necessary measures act to preserve its sovereignty.
Yeah, well, good luck with that, Rep. Shea. It's one thing to abuse your wife, but it's another thing to try to push around the government of the United States of America. I mean, to do that you're going to need lots of firepower… you know, lot's of unregulated arms, ammunition and accessories, manufactured right here in the Sovereign State of Washington. Which I suppose explains why Shea and 19 of his colleagues would introduce HB 2709, the Washington State Firearms Freedom Act of 2010, which amongst other things, would legalize and deregulate both silencers and cop killer bullets.
Sec. 4. (1) A personal firearm, a firearm accessory, or ammunition that is manufactured commercially or privately in Washington and that remains within the borders of Washington is not subject to federal law or federal regulation, including registration, under the authority of congress to regulate interstate commerce.
This in the wake of our recent rash of tragic police shootings.
I suppose I should be amused to see the state Republicans self-destruct this way, but when you really think about how crazy and dangerous their proposed legislation is, it's more than a little bit scary to imagine what they might do to Washington and its citizens should they ever seize control of state government. You know, through Democratic or other means.