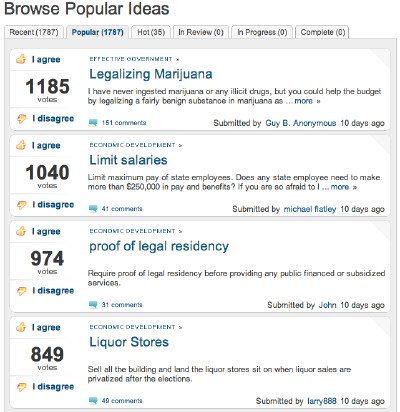 If you wonder why more governors don't follow Gov. Chris Gregoire's lead and create an online suggestion box to solicit cost-saving ideas for voters, just take a look at the most popular suggestions on her Transforming Washington's Budget page.
You'll find such bright ideas as "cut government waste," "require proof of legal residency," "limit salaries" and "English only." What you won't see anywhere near the top of the list are realistic, specific proposals that reflect a willingness to accept the kinda dramatic cuts in government services that would make a substantial impact on the budget… you know, things like "slash state funding of K-12 education," "shut down the state ferry system," "privatize the state universities," or, you know, "raise our taxes." Most of the suggestions either wouldn't save much money (for example, the state doesn't own the land or buildings housing most of its liquor stores, so there's nothing to sell off), and/or wouldn't be possible (ie, federal law prevents the state from taxing tribal casinos without their permission).
Meanwhile, the number one suggestion, which admittedly would raise a significant amount of revenue while cutting costs, presents its own legal and political hurdles. And while Gregoire's office assures the pothead community that she'll consider "Legalizing Marijuana" as a "legitimate idea," it's hard to imagine this governor actually following through.
One thing this public suggestion box does illustrate, is that as frustrated as voters may be with the current budget crisis, they don't really want smaller government. They just want government to be cheaper. And that something-for-nothing attitude is, of course, at the heart of our structural deficit.