The first thought that crossed my mind when I heard that Sen. John McCain had tapped Alaska Gov. Sarah Palin as his running mate was that there were at least two Democrats in the Washington state delegation at Invesco Field who were more qualified to be president: King County Executive Ron Sims and Gov. Chris Gregoire.
Palin has been her state's chief executive for only 18 months… and to call Alaska a "state" is almost too kind.  It's population of 670,000 is the third smallest in the nation, about one tenth that of Washington state, and a little more than one third that of King County.  And while both Sims and Gregoire are forced to balance their budgets in sync with a fluctuating economy, Alaska's oil royalties and reverse income tax force no such tough decisions.
Indeed, for all of Palin's talk about fiscal conservatism and smaller government, Alaska's state spending per capita, at $12,833, is by far the highest in the nation.  (Compared to only $5,303 in Washington state.)  And what do Alaskans get for all that money?  According to Governing Magazine, not all that much: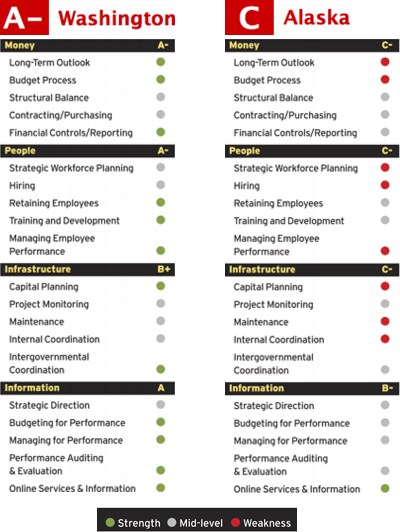 But, you know, Gov. Palin was clearly the most qualified for the job.  The most qualified, conservative, pro-life, creationist, Republican woman, that is.
Gov. Gregoire has served twelve years as Attorney General and four years as governor in one of the most prosperous and fastest growing states in the nation, while Executive Sims has served twelve years running a county that is larger than 14 states.  Yet local Republicans would have derisively mocked Barack Obama had either been elevated to the national ticket, while Gov. Palin, they tell us, she has the executive and foreign policy experience to lead the most powerful nation on earth.  Oh, gimme a break.
Sarah Palin is little more than a governor of a national park, whose petro-dollar based economy is more akin to that of Nigeria or Venezuela than to that of Washington state.  And given her well established secessionist leanings, the bulk of her foreign policy experience could only come from her dealings with the other 49 United States.
I don't doubt that Palin focus groups well, and that she helps McCain enormously with his party's evangelical base, but to hear our local Republicans defend her candidacy after months of attacking Barack Obama as being too inexperienced, well… if they could be any more cynical, I don't know how.