When Gov. Chris Gregoire unveiled her proposed two-year state budget a couple weeks back, the Seattle Times editorial board echoed the criticism of state Republicans, calling it "too high" and "unsustainable." Oh, don't get them wrong — the Times liked most of the spending priorities in Gov. Gregoire's new budget — they just don't want to pay for them:
Much of this has our support. But a 12.2-percent increase in spending compared with a 7.7 percent expected growth in revenues is too much. It is unsustainable on its face.
My immediate response was to point out that the projected budget shortfall was not due to out out-of-control spending but rather an antiquated tax system that is not only the most regressive in the nation, but is structurally incapable of producing revenue growth adequate to meet the demands of our state's growing economy. I argued that Washington is not a high tax state, and that measured as a percentage of personal income, state and local taxes have steadily decreased since I moved here in 1992.
Well, now I have some current statistics to back me up, and it turns out that far from a dramatic expansion, state government under Gov. Gregoire's proposed budget is actually shrinking as percentage of the state economy.
A summary analysis by the Washington State Budget & Policy Center describes Gov. Gregoire's budget as "a modest step towards the kind of state Washingtonians want to live in," and clearly shows that general fund spending under Gregoire is merely following the same trend established during the 1990s.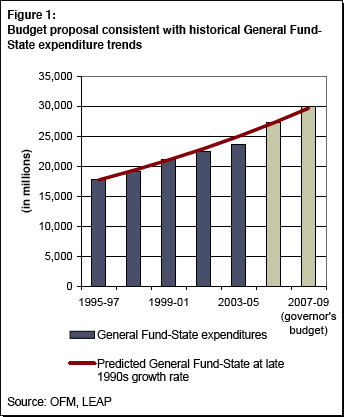 The Times would have you believe that it is Gov. Gregoire's proposed 12.2-percent spending increase that is the anomaly, but in fact it was actually the slower spending growth during the national recession and tepid recovery that fell below historical growth levels. Gov. Gregoire's budget merely returns the state to the established trend.
Indeed, as a share of the total state economy, Gov. Gregoire's budget actually represents a reduced investment — a smaller share of state resources than any of the six budgets that directly precede it.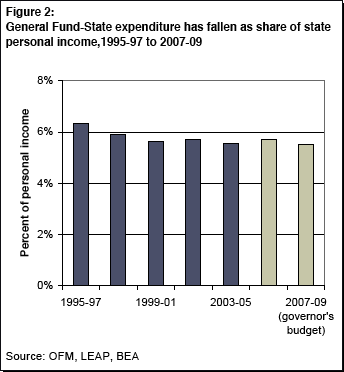 Anti-government/anti-tax critics can spout all the want about rising spending and per-capita tax increases, but those numbers are entirely meaningless when taken out of context… as they usually are. Read the academic literature and you will find that the most common metric used in comparative studies of government spending, and for analyzing the relative growth of both expenditures and revenues, is spending/taxation as a percentage of personal income.
The reason is twofold. First, the economic metric that most closely tracks long term growth in demand for government services is growth in total personal income. That is because many of the services provided by the government are commodities, and as personal income increases, so does consumption. As our state grows wealthier, demand for government services increases faster than population plus inflation.
The other reason to focus on personal income is that it is the only metric that tracks individual taxpayers' ability to pay. The state invests in things like transportation and education and law enforcement — investments that provide the infrastructure necessary for our economy to grow and for all our citizens to prosper. A spending increase, even when accompanied by an increase in marginal tax rates, does not increase the burden on individual taxpayers if it results in a corresponding increase in personal income.
There is a legitimate debate to be had over the proper size and scope of government, and the priority in which we make public investments. But it is fundamentally dishonest to enter this debate by reinforcing the common misconception that our state government is growing, when by the most meaningful measure — the government's total share of our state's economic resources — even Gov. Gregoire's proposed 12.2 percent increase represents a decline from historic trends.
So let's have an honest debate.