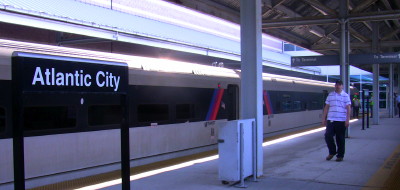 I'm off on my rail adventure from Atlantic City, NJ to Pittsburgh, PA as I head out to Netroots Nation, and I've already come across a couple of glitches that might frustrate the casual traveller. Apparently, NJ Transit's website doesn't see fit to advertise directions to its Atlantic City Station, or even a street address. Meanwhile, Atlantic City doesn't exactly provide adequate road signage.
Oh, if you want to get to the new outlet mall, that's clearly marked. But the entrance to the rail terminal tucked into a corner of the new convention center across the street… not so much.
The other glitch, NJ Transit's website warned me of in advance, so it is more a temporary inconvenience than a surprise.  See, it turns out, when you build rail infrastructure, you occasionally have to spend some time and money maintaining it.  And that's exactly what they're doing to the tracks between Hammonton, NJ and Philadelphia's 30th Street Station.
The result? An earlier start than I would've liked to make sure I arrive in time for my connection, and the fact that I'm writing this post from a (gasp) shuttle bus on the Atlantic City Expressway.
More later…
UPDATE:
The shuttle bus between Hammonton and Philadelphia was uneventful. Crowded, cramped, and briefly stuck in traffic, but uneventful. The train/bus got us in about 20 minutes later than the train alone was scheduled. Not too bad… but it was a bus.
Oh, and FYI, the fare between Atlantic City and Philadelphia was $8.00. Not a bad deal.
As a kid, I used to think it weird that 30th Street Station was actually outside of Center City Philadelphia… you know, all the way across the Schuylkill River. But since I moved away over two decades ago, Center City seems to have grown larger, and walking distances shorter.