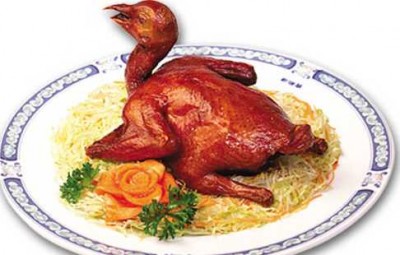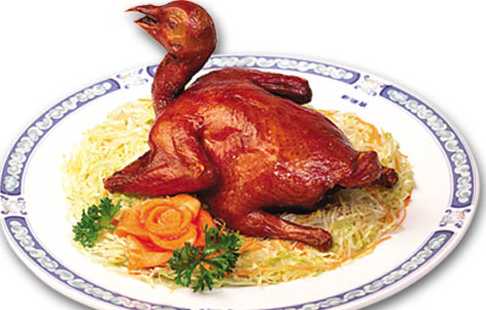 I received an email from a reader complaining that my earlier post about pigeons was in "shockingly poor taste." (Obviously, a first time reader.)
So in the service of good taste, I offer up this yummy sounding recipe for Glazed Roast Squab.
2 squab, about 12 ounces each
1 teaspoon salt

1/2

cup cilantro sprigs
2 scallions, finely shredded
2 tablespoons finely shredded ginger
2 tablespoons thin soy sauce
1 tablespoon black soy sauce
2 tablespoons Shao Hsing rice cooking wine

1/2

teaspoon sugar

1/2

teaspoon distilled white vinegar

Remove any fat pockets from the squab. Rub squab with salt. Rinse the squab under cold water and thoroughly pat dry the cavity and skin with paper towels.

In a medium bowl, combine cilantro, scallions, ginger, thin soy sauce, black soy sauce, rice wine, and sugar, and stir to combine. Place half the cilantro, scallions, and ginger in each of the cavities and smear the soy sauce mixture in the cavities and on the outside of the squab. Marinate 30 minutes.

Preheat the oven to 350 degrees. Pour 1/4 cup boiling water into an 8-inch glass baking dish and place the squab breast-side down in the dish, reserving the marinade. Roast 30 minutes and turn the squab breast side up, basting with reserved marinade. Roast 30 more minutes. Baste with marinade in pan and cook 15 minutes more, or until squab are golden brown and just cooked.

Drizzle 1/4 teaspoon of vinegar on each squab. Allow squab to rest 10 minutes before chopping into bite-sized pieces. Serve immediately.
Yes, "squab" is indeed pigeon, and yes, I have eaten squab, and my only real complaint is that they're too small.