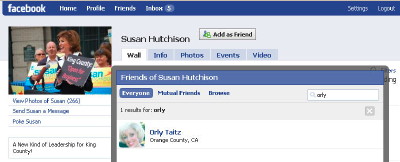 They say you can tell a lot about a person by the friends they hang out with, and so when HA commenter I Got Nothin' went trolling around Susan Hutchison's Facebook page, he couldn't help but notice her friend Orly Taitz.
And who is Orly Taitz? Only the crazy queen bee of the "birther" movement, a woman who accuses mainstream journalists of being Brownshirts, and who compares the Obama administration to Nazi Germany.
But don't you worry, Hutchison's friendship with Taitz doesn't make her a Republican. After all, Hutchison is also Facebook friends with Joe Mallahan, so that makes her about as nonpartisan as they come, right?
[youtube]http://www.youtube.com/watch?v=bMUaca8wP9w[/youtube]