Looking at Seattle's dailies from across the continent, I'm not really sure what's in the news today.
It was windy! Or maybe it wasn't. The Seattle P-I says 280,000 were left without power yesterday, but the Seattle Times says "tens of thousands." I guess, mathematically, they both could be right. Also, one man was killed kite-surfing in 40 mile-per-hour winds. I'm sure somewhere else in the world a man was killed yesterday sticking a fork in a toaster, but I don't see any headlines about that.
The War on Christmas seems to come earlier every year. Damn commercialism. Anyway, looks like those pussies at the Port of Seattle have decided to opt out of the annual multicultural debate by clear-cutting their Christmas trees and replacing them with a monoculture of snow dusted birch. Nothing like going out of your way to make all sides unhappy.
"I find the whole thing stupid," attorney Harvey Grad told the Times. I agree.
Meanwhile, the state has announced it will add a nativity scene to the "Holiday Tree" and Chanukah menorah in the Capitol rotunda. I'm so confused.
Forgive and forget? Seattle City Council candidate Venus Velazquez asks voters to forgive her for her DUI:
"I guess all I can say right now is I hope and believe that voters will see this as a human mistake," Velazquez said. "At some point you make a judgment call and, clearly, I made the wrong one because — legally — I was impaired. My own judgment of myself not being impaired didn't match up with the legal definition."

[…] "It's for the voters to decide whether this mistake is enough to disqualify me from serving them," Velazquez said. "So many times, in these situations, we've said, 'There but for the grace of God go I.' "
Will accepts her apology. Joel thinks voters should judge candidates on their ability to serve in office, not their ability to drive. I think she's finally struck the exact right tone, but it may be a day too late to save her campaign. We'll see.
Meanwhile, it looks like the state's leading Republicans would likely accept Velazquez's apology, what with Rep. Dave Reichert, Attorney General Rob McKenna, and non-candidate Dino Rossi all endorsing Jane Hague, months after her drunken swear-fest with the state patrol.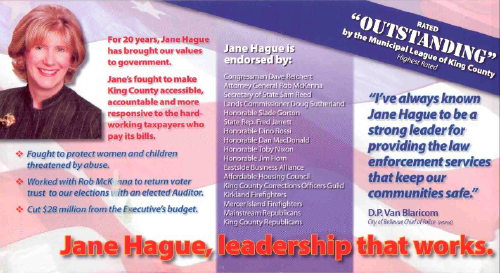 "Jane Hague… Leadership that works." You know, when it's not drinking. And driving.
Rossi also had some run-ins with alcohol. When he was 18, he and a friend got drunk on a bottle of vodka and then, with Rossi behind the wheel, crashed his Pontiac into a house and totaled the car. No one was injured, but Rossi was charged with drunken driving and underage drinking. The charge was later reduced and, instead of jail time, he had to go to a class and pay a fine.

"It's one of those things that happens when you're 18 and you know everything there is in the world to know," Rossi said.
Yup, it's just one of those things that happens when you know everything there is in the world to know.