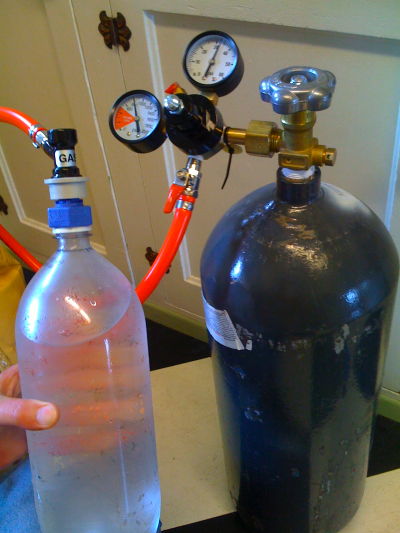 Free! Free! Well… free seltzer, that is, at least, almost.
After decades of being yoked to the international seltzer cartel, I have finally broken free, assembling the home carbonating system pictured above. Some might find the initial $240 investment (with tax and shipping) a little extravagant, but consuming about a 2 liter bottle a day, at an average cost of a buck a bottle, this little baby will pay for itself in well under a year. After that, the cost of CO2 and water will come to less than a nickel a bottle.
Such a bargain.
Plus, this setup is environmentally friendly. No need to waste fossil fuel shipping carbonated tap water around the nation (or for me to drive to the store and lug it home), and I get to reuse these two liter bottles I've collected dozens of times before tossing them in the recycling bin.
Man do I feel quenched.