Darcy Burner, her husband, son and dog escaped unharmed this morning from a serious fire at their Carnation home. There is no word yet on what the cause might be, but the campaign tells me that the house might be "a total loss."
I'll post more information as I get it, but needless to say, Darcy and her family need all of our personal support at this obviously trying moment. (And if you believe in them, your prayers.)
UPDATE:
I hate to be so coldly pragmatic at a painful time like this, but no doubt the fire and its aftermath will severely cut into Darcy's campaigning and fundraising over the coming weeks, so her campaign could use your help now more than ever. Go to Darcy's website and sign up to volunteer your time. Or if you can't give of your time, your contributions are always welcome.
UPDATE, UPDATE:
NWCN has raw footage of the home burning. My daughter and I had been to the house, and it's pretty devastating for us to see it in flames like that, so I can't imagine what it might be for the family.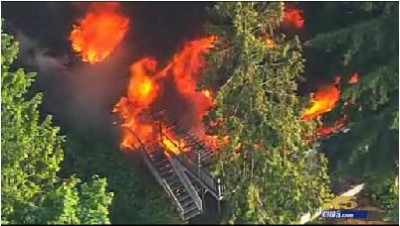 UPDATE, UPDATE, UPDATE:
KIRO TV has clearer footage that shows the full extent of the damage.
UPDATE, UPDATE, UPDATE, UPDATE:
The Seattle Times reports:
Her 5-year-old son, Henry, came into her and her husband's bedroom around 7 a.m. screaming there was a fire in his room, Burner said.

"I scooped him up and got him out of the house," she said. Everyone, including the family's golden retriever Bruce Wayne, made it out uninjured, but their cat did not survive.
I briefly got a hold of campaign spokesman Sandeep Kaushik, who is at the scene, and he roughly confirms the report, though he has not yet seen it. I asked if smoke detectors went off, and he said his understanding was yes, but that everything happened very fast, the house going up in flames within three or four minutes.
UPDATE, UPDATE, UPDATE, UPDATE, UPDATE:
The TNT's Niki Sullivan has even more details…