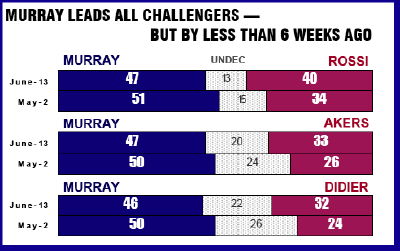 I just got my hands on the latest Elway Poll, and I gotta say, it has me feeling pretty damn smart. While the headlines generated by the top-line numbers don't look so great for Sen. Patty Murray — Publicola, for example, reported that "Rossi Gains Ground on Murray in New Poll" — the details are much more copacetic.
Yeah sure, Murray's lead has shrunk from 51-34 to 47-40 since Dino Rossi officially entered the race, and I'm sure she's not happy to find herself under 50 percent regardless of the opponent. But if anybody should be discouraged by these results, it's Rossi and his Republican supporters.
Although Murray is below 50%, this survey suggests that in order to win, Rossi would have to convince 85% of the undecided voters to vote for him. This would be a stretch, even though challengers typically receive a disproportionate share of the undecided voters. The assumption is that voters are familiar with the incumbent. If they were going to vote for the incumbent, they would know it already.
The problem for Rossi, as I've previously suggested, is that having already run high profile campaigns in 2004 and 2008, voters are already familiar with him too. In fact, as a candidate, voters are probably more familiar with Rossi than with Murray, thanks to the $20 million-plus spent on his behalf just two years ago. Elway confirms my intuition:
Because Rossi has run in 2 of the last 3 statewide elections, however, most voters will have formed an opinion about him prior to this campaign. He was recruited as the strongest candidate to face Murray based on his runs for Governor. Ironically, he may not benefit as much from being the non-incumbent as would be the case had he not run these races.
Six years of almost continuous campaigning, and yet here Rossi sits, in the wake of his post-announcement bounce, at a mere 40 percent.
This reminds me of the 2006 contest between Sen. Maria Cantwell and Mike McGavick. It was around this time in the campaign when the polling numbers narrowed, and pundits started talking about how this would be a close race. The problem for McGavick was that the only numbers that were moving were Cantwell's, while he never managed to climb above the low 40's. McGavick's path toward fifty plus one was never very clear, and he ultimately never found one.
Rossi's path is equally unsure, if for different reasons, and made all the more so by the fact that he polls best with those respondents least likely to vote.
As Elway explains, Murray leads Rossi 56-33 with "perfect voters" (those who have voted in all 4 of the previous primary and general elections) and 52-37 among "likely voters" (those who are 3 for 4), while Rossi leads 47-39 among "marginal voters"… those who have voted in 2 or fewer of the past 4 elections. This appears to create a bizarro world kinda scenario, where Republican victory might hinge on increasing voter turnout.
The other challenge facing Rossi is that according to Elway, more Washington voters would vote against a Tea Party candidate than for one, by a 5-to-3 margin. Once again echoing my earlier analysis, Elway observes that the Tea Party represents a bigger problem for Rossi than it does for Murray:
Tea Partiers are never going to vote for Murray anyway. Rossi will need Tea Party voters in November, but if he is too closely identified with them, he risks driving away more voters than he will attract.
Rock, meet hard place.