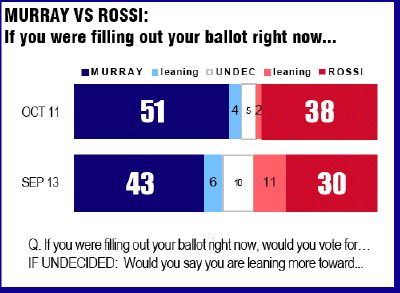 Respected local pollster Stuart Elway just released a new survey of the Washington Senate race, and it's a bit of a shocker for those plying the too-close-call meme: 51-38 percent in Sen. Patty Murray's favor, and a yawning 55-40 percent gap when "leaners" are factored in. That's a far cry from the spate of surveys from national polling firms that have recently shown the lead bouncing back an forth, near or within the margin of error.
Elway of course is painfully aware that such a dramatic departure from the national narrative might "come as a surprise to many and as unbelievable to some," so he goes on at some length explaining why these results should not be dismissed as an outlier. This survey only interviewed "likely voters," defined as those who have voted in at least two of the past four elections, or who have registered since 2008. The demographic profile of this sample matches the samples all year, and the expected profile of likely voters. And, Elway's results are actually in line with the trend from other, non-automated surveys.
But in the end, one of the big differences between Elway's results and those of other pollsters comes down to "philosophy."
One of the challenges of election polling is determining what to do with respondents who are undecided. The philosophy here has always been to let them be undecided. After all, it is still 3 weeks until election day and the purpose of a survey is to describe the campaign situation today—not to predict the outcome. As a consequence, The Elway Poll routinely indicates more "undecided" voters than other surveys—a position that fails to satisfy the partisans, often resulting in charges of incompetence and/or bias from partisans on the short end of data.
And not only doesn't Elway push the undecideds, he also doesn't statistically weight the data the way many national pollsters do, using some "secret sauce formula" to estimate how the undecideds will break based on party identification. But if he did weight the data, here's how the results might look: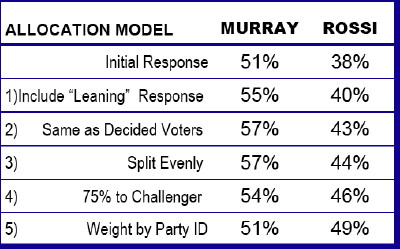 51 to 49 percent… that's right in line with Rasmussen. But as Elway points out, the Party ID model assumes that all of the remaining undecideds would break for Rossi, ignoring the fact that leaners in this survey actually broke 2 to 1 for Murray.
According to Elway, these results illustrate the difficult challenge for Rossi, as "there are simply not enough undecided voters left" to sway.
One path for Rossi is to bring new voters into the electorate—people who were not in the "likely voter" sample. This is where Tea Party voters may help, assuming that there are a significant number who are not "likely voters." Sufficient help from that quarter seems problematic for two reasons. First, it is not clear that Tea Partiers are disproportionally less likely voters. Second, Rossi has consciously not courted the Tea Party constituency.

This means Rossi must take votes away from Murray. He must convince enough Murray supporters to switch sides, which puts a premium on the two debates and on making an effective "closing argument" in the final three weeks of the campaign.
Good luck with that. Murray has been in the U.S. Senate for 18 years, and this is Rossi's third appearance on a statewide ballot in six years, so a lot of voters came into this election with their minds already made up. And it doesn't help Rossi that, according to Elway, Washington seems to be bucking the national generic trend, with a plurality of voters preferring Democrats maintain control of Congress by a 46 to 37 percent margin.
All in all, pretty good news for Patty Murray.