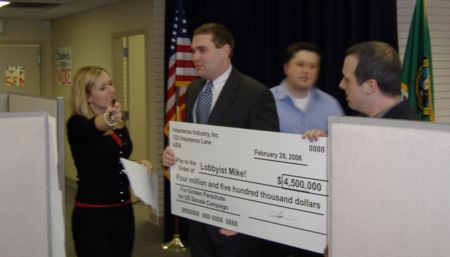 McGavick campaign worker shows Dems where they can stick their giant check.
Yesterday was Mike McGavick's last official day as an insurance industry executive, and to celebrate, the state Dems stopped by to present him with a giant check symbolizing the $4.5 million in accelerated stock options he earned as part of his $15 million golden parachute. Technically, Safeco is constrained by the same campaign finance limits as you or I, but insurance industry lobbyist cum CEO cum senate candidate McGavick is free to spend as much on his own campaign as his new-found personal fortune affords him. How convenient.
Still, after studying the latest Elway Poll, it's starting to look like no amount of money can buy McGavick this election. The other day I briefly commented on Sen. Maria Cantwell's impressive 30-point lead, but if McGavick boosters found the headline disheartening, they better flip on their pacemakers before delving into the cross-tabs. I can't post a copy here (I shouldn't even have one myself,) but I'm happy to share some of the juicier tidbits.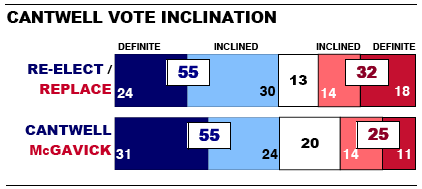 As I previously reported, Cantwell enjoys a 55 to 25 percent lead over McGavick, but when you break down the numbers McGavick looks even weaker. Indeed, Cantwell's margin actually improved when matched against McGavick than in the abstract re-elect/replace question. While Cantwell's support holds steady at 55 percent, McGavick polls seven points behind a generic candidate, and those saying they will "definitely" vote for Cantwell rises from 24 to 31 percent. Of those who originally were inclined to vote against Cantwell, only 66 percent said they would vote for McGavick, with 11 percent deciding they would vote for Cantwell after all.
McGavick fares worse than a generic opponent. Ouch. But Elway tries to soothe the sting:
This is a familiar phenomenon early in the campaign, when the opponent is not as well known. In the abstract, respondents get to imagine their ideal opponent, a standard that real candidates can rarely live up to.
That may be true. But it should be remembered that McGavick first kicked off his campaign back in July… and again in October… twenty-four more times in January… and once again as recently as February 15. Furthermore, the sample was taken well after McGavick's six-figure introductory TV ad campaign that ran in high profile slots during the Seahawks Super Bowl run. And yet according to Elway, Cantwell leads McGavick in every area of the state, in every demographic except Republicans… and by "significant margins."
Clearly, whatever McGavick has been doing, hasn't been working… and so he's called a press conference for Thursday morning to present to reporters his "central campaign themes"… which if he's smart, won't be the same themes he's stressed thus far.
While McGavick's early ads tried to sell him as someone who can cut through the partisan strife in the other Washington, voters in this Washington simply aren't buying it. By a 44-26% margin, respondents said a Democrat incumbent is more likely to reduce partisanship than a Republican challenger, while 45-28% of respondents saw a Democrat as more effective at reforming Congress.
[Cantwell] has a sizable advantage on her issues and she even appears to be beating McGavick on his own issues.
At least 51% of respondents graded Cantwell "satisfactory" or better on each of the 7 issue categories polled, including traditional Republican issues like "government spending and taxes," "national security," and "moral issues like abortion and gay marriage." Um… what the hell is McGavick going to run on?
And all this comes in the context of an absolutely terrible political climate for anybody running with an "R" next to their name.
Winning statewide as a Republican in Washington state has not been easy for about a generation, but it looks especially difficult this year. Nationally, pundits are talking about a "reverse 1994" when the GOP swept the board and took control of Congress. Some Democrats are thinking that it's comeback time. That may or may not pan out nationally, but in Washington state the early signs point that way.
President Bush's job approval ratings are about 5:3 negative in WA (compared to 5:4 negative nationally,) with 46% of respondents saying he is doing a "poor" job. Even 22% of Republicans give Bush a negative rating. Meanwhile, Democrats hold a 15-point edge in the generic voting for Congress question (6 points higher than the national average.)
And it gets even worse for Republicans. Half the respondents said divided control of Congress "works best for the country," and when combined with those who favored Democratic control, 73% were disinclined to vote Republican. Finally…
When asked directly about this Senate race ("If McGavick were to replace Cantwell in the US Senate, that would strengthen the Republican majority in the US Senate") respondents said that was a reason to vote for Cantwell by nearly 2:1, including a 22-point gap among independents.
In this climate, even McGavick's strengths seem to work against him, including the classic Republican tactic of running a successful businessman as a political outsider.
Typically, the outsider mantle has been an advantage when voters seem ready to throw the bums out. The voters in this survey, however, by a 4:3 ratio, rated the fact that McGavick was a CEO and not a politician as a reason to vote for Cantwell. She even had a 2-point edge on this point among people employed in the private sector.
Double ouch.
Perhaps the only ray of hope Elway could find for a non-politician like McGavick running against an incumbent, was that voters said "stands on specific issues" and "overall philosophy" were more important than "record and experience," and that with the exception of the top ranked issue — health care — the other top issues were ones the GOP has run on for years: the economy, war, foreign policy, values and taxes. But Elway throws in a caveat:
The caution would be that 69% of those who said "stands on issues" or "overall philosophy" were not Republicans: 25% were Independents and 44% were Democrats. For the Democrats in particular, what they want to hear about the economy and the war is unlikely to be what a Republican will be saying.
Quite frankly, McGavick's timing sucks. Republicans have long considered Cantwell to be vulnerable, but her job approval ratings have steadily climbed, even as the political climate for WA Republicans has all but tanked. McGavick has so far failed to gain any traction with voters, but as weak as he is, Cantwell's strength should not be understated… indeed, her 55% re-elect compares quite favorably with Sen. Patty Murray's 49% standing in February of 2004. Murray went on to win with 55% of the vote. As Elway notes:
The voters may not be wild about Maria Cantwell, but they like her better than they used to, and they are not greeting Mike McGavick with flowers and candy.
Of course the election is still nine months out, and after a ton of paid media, it's hard to imagine the race won't tighten… but if it doesn't, the repercussions will be felt far outside the U.S. Senate. A Cantwell cakewalk could only help Darcy Burner's challenge in the 8th Congressional District, extending coattails from the top of the ticket, and freeing up money that might otherwise be spent defending an incumbent senator. The Reichert-Burner race is already shaping up to be a nail-biter, and if McGavick fails to create a little drama, the media will turn its attention to the 8th CD, further enhancing Burner's profile.
Yeah, it's only a poll, it's only February, and this is only some idle speculation. But you can be sure that if these numbers were flipped, it'd be the bloggers on the other side who were doing all the speculating.