Markos hasn't told me what to think yet, but NBC tells me that Republicans have taken control of the House. Anyway, I'll use this post for blogging my observations until I feel like doing something else.
6:11 PM
Here's a question: who's crazier, KY Senator Elect Rand Paul, or outgoing KY Sen. Jim Bunning? I'd say it's a toss up.
6:22 PM
Carl and I disagree, on what really ails Democrats. I say that the key to winning is lying, and he says that we just need to do a better job of selling that we're the party of truth. But my analysis is pithier, so I win.
6:31 PM
Palin-Rubio, 2012!
6:50 PM
More evidence of voter high turnout (and/or low vote handling capacity) in King County, with two-hour lines at the accessible voting centers, and over-stuffed ballot drop boxes. We'll see.
7:15 PM
I wish I actually did drink liberally. That would make tonight more fun. Or at least, less not-fun.
7:22 PM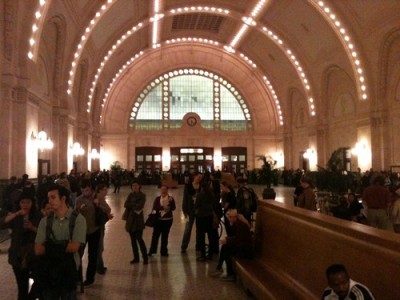 Via Slog, that's a three-hour wait to vote at Union Station in Seattle. King County Elections has said that everybody who is in line to vote at 8 PM will be allowed to vote, so there's still time to run on over to the accessible voting centers in Bellevue, Tukwila and Seattle. Or, if you're somewhere else in state, particularly red country, well, fuck you and figure it out for yourself.
7:42 PM
Fuck Wisconsin. Really. Fuck 'em.
7:51 PM
So, if you've got nothing better to do, why not head out to Union Station with coffee and donuts or something, and try to encourage folks there to stay in line and vote.
8:05 PM
Money can't buy you love. And apparently, it can't buy you the California governor's mansion either.