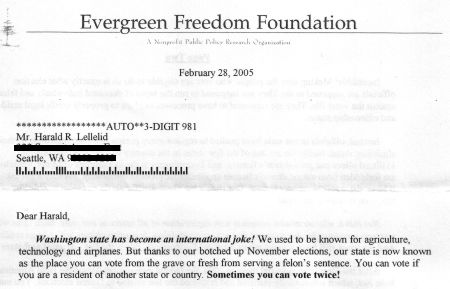 The excerpt above comes from a fundraising letter the Evergreen Freedom Foundation (EFF) recently sent out to Washington residents, decrying our state "as the place you can vote from the grave" or "if you are a resident of another state." The EFF's solution? Purge the voter rolls and make everybody re-register:
Each of us who wants to vote must be able to prove that we are a non-felon, American citizen, with a legal residence. And we must still have a pulse when we vote!
(Emphasis theirs.)
Hmmm. Um… before the EFF pontificates to state and local elections officials about how to clean up their lists, perhaps the EFF should try cleaning up their own. The fundraising letter was forwarded to me by a faithful reader, along with an angry cover letter addressed back to EFF President Bob Williams:
I find it incredibly ironic that your organization so concerned with cleaning up the election process in the state of Washington is sending mail to dead people.

I received a letter addressed to a Mr. Harald R. Lellelid, [address excised] on March 3, 2005. This person has been dead for nearly five years. Furthermore he has never lived at this address. He resided in Oregon, but as the executor of this estate I transferred all of his mail to my address in Seattle.
That's right… the EFF's targeted profile of outraged Washington voters includes deceased Oregonians.
In case you're wondering, Harald did not receive a ballot this past November… which I suppose can be attributed to the fact that the EFF was not running the election.
Clearly, this error proves that the EFF's research is "totally messed up."