Whenever I'm at the bank, I like to pick up a few of these: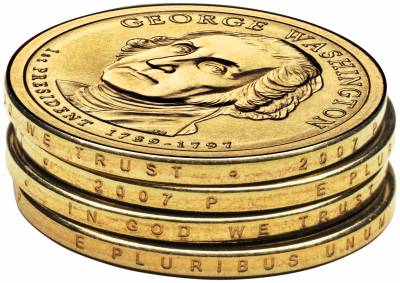 With a pocket full of twenty or so dollar coins, I like to spread them around. Sometimes people will give you this look that says, "Why did you give me this? I know that it's real, and that it's a dollar, but why do you purposely upset the rickety apple cart that is my life with this coin?"
Today I gave one to a Real Change vendor. The fella looked at it and gave me the biggest grin I've seen in a long time.
I've found that dollar coins work in every modern vending machine I've run across. There is a reason why this is true. The vending machine political lobby is a major player in the "dollar coin" movement. Dollar coins are much cheaper to accept than "paper" dollars. Those bill readers are an extra expense they'd love to be rid of. Alas, Americans (other than myself) aren't taken by the dollar coin phenomenon.
King County Metro takes them, however. If you've ever seen someone try to feed a buck into the fare box during rush hour, you know that this can be excruciating. Dollar coins would solve this problem.
The dollar coin has had two recent iterations. Several years ago was the "Sacajawea", and more recently was the "Presidential" series. The "Sac", as it was nicknamed (by me), didn't really catch on, so the new ones are shinier and more robust in their features. Also, the Native-American choice may have thrown some folks. Not me, but I do find the choice somewhat odd. It's like, "sorry about the years of genocide. Here's a coin."
Of all people, Republicans should love these coins. You guys love to put Reagan on all sorts of shit. Here's your chance.
So the next time you're at the bank, ask the teller to load you up on some dollar coins. You'll never have so much fun spending your money.