An anti-Gregoire email has been making the rounds since the weekend, and has apparently gone viral in the agricultural community.  The email falsely characterizes the governor's record on water issues, and touts an anti-Gregoire rally that never happened.
Farmers Rally in Yakima Against Governor Christine Gregoire

YAKIMA, WA – Over 100 Farm Bureau members braved strong winds and heavy rains to hold a rally in Yakima on November 1st to protest against Governor Christine Gregoire and her lack of support and action in building water reservoirs in Eastern Washington during her first term in office.

In particular, the Farm Bureau members at the rally expressed strong dissatisfaction at Governor Gregoire for her lack of leadership on several issues…

[…] During the rally, the Farm Bureau members chanted "Jay Manning must go!" in reference to Department of Ecology Director Jay Manning.

Nearly all of the farmers at the rally indicated that they would now be supporting Gubernatorial Candidate Dino Rossi because of the lack of action that Governor Gregoire and Ecology Director Jay Manning have shown in regards to building water reservoirs in Eastern Washington.
The email even includes pictures, presumably taken at the rally: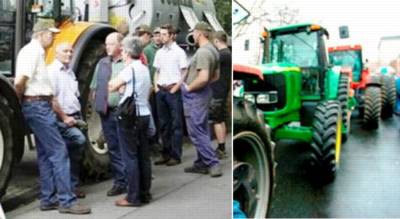 Only problem is, the rally never happened.  The image on the right is cropped from a farm rally in New Jersey, while the image on the left is cropped from a milk protest in Germany.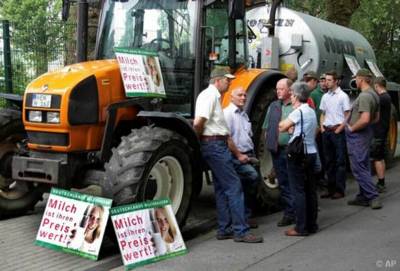 Dino Rossi couldn't actually generate much support from farmers in central Washington, so he had to fabricate it.  Pathetic.