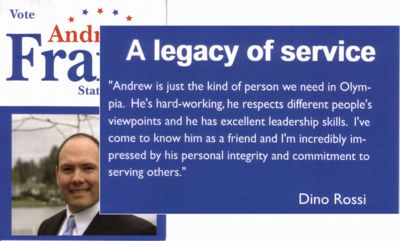 When Andrew Franz ran for the state legislature as a Republican in the 47th District, Dino Rossi couldn't gush more effusively. But now that Franz has been arrested for soliciting the prostitution of a 13-year-old girl, Rossi barely knows the guy.
Of course it's hard to blame Rossi for being taken in, as apparently Franz is such a charmer:
The documents say Franz, who went by the user name sugardad4u33, even admitted he worked as a professor at a university and that "the girls who went to the university were too old." […] The documents say Franz wrote he would bring "muscle relaxants and alcohol" for the girl.

When he was arrested, agents say he had with him "a necklace with cherries on it," "lingerie sets and fishnet stockings," and "a form of Viagra pills."
What a prince. So, how many hundreds of doorbells did Franz ring in 2006 with Rossi's glowing endorsement in hand? How many underage girls did Franz scope out as he canvassed the 47th District? Sounds like a dream job for guy who's clearly an experienced pedophile.
When asked about Franz by the Seattle Times, Rossi was reportedly "stunned":
Rossi said that while he didn't know him well, Franz "served his country."

"He approached things with a very Army Ranger point of view. That's why this is so out of character for him. That's why it's such a shock," Rossi said Thursday.
Huh. So Rossi didn't know him well…? That's not what he said in a quote on a glossy piece of Franz's 2006 campaign literature (front/back), in which Rossi's was the only endorsement listed:
"Andrew is just the kind of person we need in Olympia. He's hard-working, he respects different people's viewpoints and he has excellent leadership skills. I've come to know him as a friend and I'm incredibly impressed by his personal integrity and commitment to serving others."
So which is it Dino? Did you not know him well, or did you know him as a friend? It seems to me that Rossi is either a liar, or a very poor judge of character. Or both.
Either way it does say something about Rossi's character. Dino Rossi is a fake and fraud (with a long history of associating with fakes and frauds), who will say anything to close a deal or get elected… and who fervently believes he can get away with anything as long as he says it with a smile.