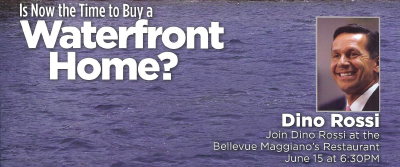 Missed Dino Rossi at this weekend's state Republican convention? Then join him June 15, 6:30PM at Bellevue Maggiano's Restaurant, where he'll talk about the most pressing question facing our nation: "Is now the time to buy a waterfront home?"
Really. In the middle of a supposedly hotly contested U.S. Senate campaign, Rossi is still giving investment seminars on how to profit off the real estate market collapse at the heart of our current crappy economy. Weird.
UPDATE:
And just take a look at the rest of the brochure with the $11 million homes and the low mortgage rates. No question Rossi is a man of the people. Very wealthy people.