Shit. I hate it when I agree with the Seattle Times editorial board. (Actually, I kinda like it when I agree with Times, but it's a lot more fun to trash them.)
The Times takes former real estate salesman Dino Rossi to task for his faux "nonprofit, nonpartisan" think tank, that's really just a dodge for running his 2008 gubernatorial campaign without revealing its contributors.
Rossi's group could well be legal, but falls in a gray area. The group is keeping Rossi's potential gubernatorial candidacy alive through speeches and travel. […] The state Public Disclosure Commission is doing preliminary work before beginning an investigation on Rossi's group and may not conduct a full investigation. It should decide whether such a group is legal under campaign laws or if such activities violate the spirit of our laws, which is more likely.

[…] Voters have a right to wonder why Rossi invented a group and pretends it is not part of a campaign.
The Times goes on to say that even if he technically managed to skirt our state's public disclosure laws, "Rossi ought to announce contributors and the amounts donated."
Yeah, fat chance. The Stranger's Josh Feit talked with Forward Washington executive director Ted Dahlstrom today, who said: "We have not violated any rule. We have no plans to disclose our list."
If anything, the Times' admonishment was too reserved. Forward Washington is a ruse, and everybody knows it. It doesn't just allow Rossi to hide the identity of his big money contributors, it also allows them to vastly exceed campaign contribution limits. And oh yeah… Rossi gets to draw a salary… expressly forbidden in a real campaign. Sweet.
Rossi ran in 2004 as an agent of change, promising to shake things up in Olympia after two decades of Democratic governors. Now we see the kind of change Rossi was talking about.
UPDATE:
You know what…? The more I think about it, even I was being too reserved: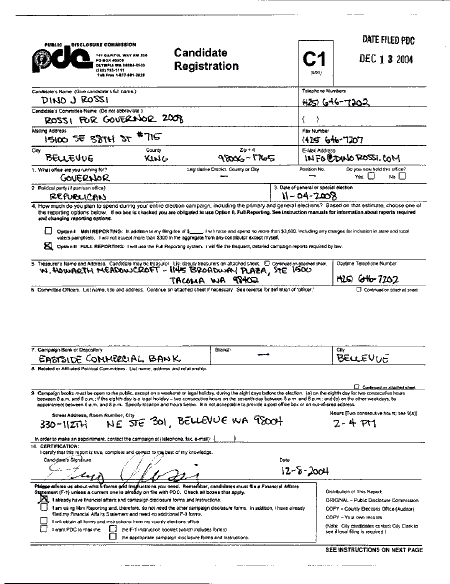 I first posted this back on December 23 of 2004. In this Public Disclosure Commission filing, Rossi declares that he is running for governor in 2008, and if you look above his signature you'll see that he certifies that this report is "true, complete and correct." And he continued to file with PDC until February of 2006.
So then… what happened to the $324,000 he'd raised for his official 2008 campaign? What happened to the computers, office furniture and other assets his 2008 campaign bought? What happened to the $79,000 he had left over in the bank? Did he really shut down his campaign and start Forward Washington, or did he just hang a different shingle on the door?
Now Rossi claims that he was only raising money to pay for his lawsuit? Well, he was either lying to the PDC back in December of 2004… or he's lying to the PDC (and the public) now.
There's no question that Rossi is intentionally skirting the law, but if the PDC determines that this is technically legal, than he has laid out a roadmap for killing public disclosure and campaign contribution limits in Washington state. Every candidate can be "undeclared" or "undecided" until officially filing. Every candidate can run a shadow campaign, hiding contributors, and directly drawing a salary.
The public has a right to know: who is paying Dino Rossi's bills? The only thing stopping this disclosure is Dino Rossi.