The Seattle Times editorial board endorses the new Seattle-Tacoma International Airport contract with Yellow Cab, for amongst other things, improving the quality of the cabs serving the airport:
To the credit of the Port and other entities working on taxi policy, cabs serving the airport are no longer grungy and filled with house pets and cookery. A big improvement.
"House pets and cookery"…?  Um… did the Times editorial board just make some sort of ethnic slur against the Sikh cabbies who dominate STITA, the taxi association that previously held the Sea-Tac contract?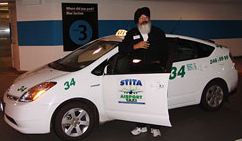 I've been in my fair share of STITA cabs, and while I guess you could describe a few as grungy, they were no more or less so than other Seattle cabs, let alone those I was familiar with from New York and Philadelphia. And I certainly don't remember any cabbies cooking curry in the front seat, with or without a four-legged companion.
Considering how closely the public associates STITA cabs with our region's growing Sikh community, "house pets and cookery" just strikes me as an odd and inappropriate turn of phrase coming from the Times… the kinda rude hyperbole more at home on, say, a lowly blog, than the editorial pages of a major daily newspaper.
Not that I don't welcome the competition.