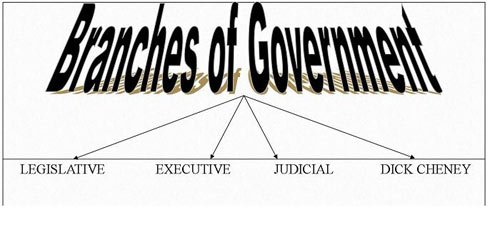 It's hard to be a loyal Republican these days.
When Vice President Dick Cheney refused to comply with an executive order regarding classification and declassification of government materials — asserting that his office "does not consider itself an entity within the executive branch" — even arch-conservative Instapundit criticized the argument as "politically idiotic and legally self-defeating."
The Vice President really isn't an Executive official, and isn't part of the President's administration the way that other officials are — for one thing, the VP can't be fired by the President: As an independently elected officeholder, he can be removed only by Congress, via impeachment. (In various separation of powers cases, the Supreme Court has placed a lot of weight on this who-can-fire-you test).

[…] But here's the thing: Whatever executive power a VP exercises is exercised because it's delegated by the President, not because the VP has it already. So to the extent the President delegates actual power (as opposed to just taking recommendations for action) the VP is exercising executive authority delegated by the President, but unlike everyone else who does so he/she isn't subject to removal from office by the President (though the President could always withdraw the delegation, of course). However — and here's where the claim that Cheney is really a legislative official creates problems for the White House — it seems pretty clear that the President isn't allowed to delegate executive power to a legislative official, as that would be a separation of powers violation. So to the extent that this is what's going on, the "Cheney is a legislative official" argument is one that opens a big can of worms.
It certainly does. And Rep. Rahm Emanuel (D-IL) is striking back with the inevitable retort, introducing an appropriations amendment that would eliminate funding for Cheney's office.
"The Vice President has a choice to make. If he believes his legal case, his office has no business being funded as part of the executive branch. […] However, if he demands executive branch funding he cannot ignore executive branch rules. At the very least, the Vice President should be consistent. This amendment will ensure that the Vice President's funding is consistent with his legal arguments."
While it is fun to ridicule Cheney for his "man-size" safe, his disappearing emails, and his penchant for spying on White House staffers — Fox News commentator Juan Williams described the VP's machinations as "a game in order to keep Dick Cheney in, I guess, some sort of secured undisclosed bunker of his mind" — these latest revelations are also somewhat frightening. That Cheney would even attempt to argue that his office is legally exempt from both executive orders and congressional oversight is an offense to the Constitution, and a shocking example of just how fragile our democracy can be in the hands of man who does not respect our democratic institutions.