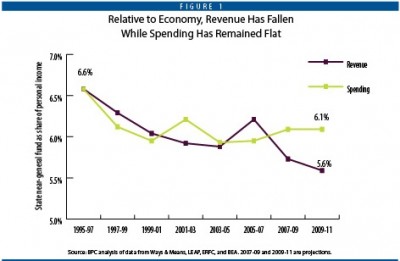 I'd originally intended for this post to go to HA, but I've written on this subject so many times before, I decided wonkify the readers at Slog:
Indeed, by nearly any meaningful measure, Washington's state and local governments have been steadily shrinking over most of the past two decades, through both boom times and bust. You wouldn't know it from reading the papers, but state tax revenue as a percentage of the total economy has fallen from 6.6% in 1995 to about 5.5% today, while per capita state spending in IPD-adjusted dollars fell by 10% over the same period.

And those aren't numbers you can easily dismiss as mere liberal claptrap. Eventhe conservative Tax Foundation — the same think tank frequently cited by Tim Eyman — reports that our state and local tax burden plunged from 10.4% in 1994 to 8.9% in 2008, dropping Washington from 17th to 35th place nationally in only fifteen short years.

You know… Dems gone wild.
But just so you don't feel cheated, I saved the recycled graphic above for HA. As always, read the whole thing.