Live by the cherry-pick, die by the cherry-pick.
In court documents filed before Friday's deadline, Democrats claim they have identified a total of 743 felons who voted illegally, mostly from pro-Rossi precincts. This is not only more than enough to offset the 946 felon votes claimed by Dino Rossi's attorneys, but using the GOP's very own statistical methodology, may even expand Governor Christine Gregoire's 129-vote margin.
Washington State Democratic Party Chair Paul Berendt also claims that this is evidence that Rossi deliberately concealed evidence of illegal votes cast statewide:
"The discovery of these additional illegal votes reinforces the Democratic Party's long-held belief that Dino Rossi has concealed illegal votes that benefited him in November.

This new information explains why Dino Rossi argued that evidence of the illegal votes that benefited him should not be considered by the court, because if you look where Dino Rossi wants the court to ignore, he loses even under his own theory."
The Democrats issued a press release with a map showing 22 counties where they claim Rossi concealed names of felon voters who would have benefited him under his own proportional reduction theory. The Democrats found additional felons in other counties, in precincts that also voted pro-Rossi.
Counties Where Rossi Concealed Illegal Votes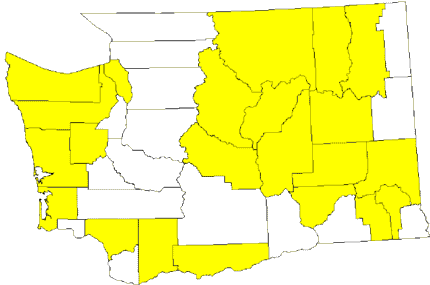 According to the Seattle Times, Democrats have also added two University of Washington professors to their legal team, who plan to argue that felons are more likely to have voted for Rossi than Gregoire.
"We know for a fact that nonunion, blue-collar, Caucasian men vote very disproportionately Republican, and when you look at the felon population in the state of Washington, they are overwhelmingly nonunion, blue-collar, male Caucasians," said state Democratic Party Chairman Paul Berendt.

"This could be under any other circumstance the prime demographic Republicans target in their" get-out-the-vote effort, he said.
This is an issue we've argued forwards and backwards in the comment threads, and I'm guessing we'll argue it some more. But the point is, if you're going to settle this election by statistical analysis, you've got to make sure you're analyzing the right statistics. For example, 95 percent of felons are male, and thus it would be misleading to simply infer that precinct is the only significant predictor of how they may have cast their ballot. Republicans would like you to believe that the real winner of this election can be determined by a simple math equation… but nothing is further from the truth.
Anyway, here's the final county breakdown of felon votes alleged by Democrats:
| | |
| --- | --- |
| Adams | 1 |
| Benton | 53 |
| Chelan | 21 |
| Clallam | 12 |
| Clark | 57 |
| Columbia | 1 |
| Cowlitz | 10 |
| Douglas | 7 |
| Ferry | 6 |
| Franklin | 8 |
| Garfield | 1 |
| Grant | 45 |
| Grays Harbor | 1 |
| Island | 5 |
| Jefferson | 1 |
| King | 58 |
| Kitsap | 31 |
| Kittitas | 8 |
| Klickitat | 3 |
| Lewis | 22 |
| Lincoln | 5 |
| Mason | 1 |
| Okanogan | 11 |
| Pacific | 1 |
| Pierce | 86 |
| Skagit | 17 |
| Skamania | 1 |
| Snohomish | 52 |
| Spokane | 86 |
| Stevens | 1 |
| Thurston | 29 |
| Walla Walla | 11 |
| Whatcom | 8 |
| Whitman | 7 |
| Yakima | 76 |
Of course, Republicans are already questioning the accuracy of the Democratic list, and I'm sure some of these names won't pan out… but then, neither will some on the Republican list. I think it is telling that with all the GOP talk of shoddy work on the part of the Democrats, Vance could come up with very few actual examples in the Times.
State Republican Party Chairman Chris Vance said that 31 of the people included on an early Democratic list were among the felons listed by Republicans. He also said he doubts the accuracy of the Democratic claim that residents at Western State Hospital voted illegally because they had been found mentally incompetent. Vance said Republicans investigated those votes earlier and were unable to determine whether they were illegal.

"It feels to me like the Democrats are desperately trying to build a last line of defense," Vance said.
The fact is, Rossi would need at least a 700 felon advantage (if you can call it that) to have a hope of prevailing on his most favorable proportional methodology… so the Democrats have plenty of cushion. And if Vance wants to talk about desperation, he should take a look at the comment thread over on (u)SP where they're finally analyzing the transcript of Judge Bridge's recent rulings, instead of just reading the AP headlines. Some of the most ardent and articulate defenders of Rossi's lawsuit, are pretty much conceding it's over.
I haven't had a chance yet to more than glance at the transcript myself, but the previews sound very encouraging. More later.
UPDATE:
A clarification. The Democrats press release describes its list as "illegal" votes, not "felon" votes. Apparently, the total number includes all of their alleged irregularities, including ballots that should have been counted, but weren't. The list identifies the voters by precinct, and the court should make it available to the public by Monday or Tuesday. Looking at the numbers, it would seem that like the R's, the D's are not including mishandled provisional ballots in their list.
UDATE, UPDATE:
Okay, I've been corrected. The list submitted by Dems identifies 743 probable felon votes in 35 counties. It also identifies 1898 provisional ballots counted before verification in 14 counties, not including King. And there are an additional 780 absentee and provisional ballots from King County that are identified as not being counted due to error by election officials.
My bad.