As I've posted previously, there's more to Dave Reichert's abusive franking practices than simply a flagrant waste of taxpayer money, for it is not just the medium that is at question here, but the message itself.
Yesterday I contrasted two franked mail pieces, one in which Reichert promises "bold" earmark reform, and the other in which he brags about the amount of earmarked bacon he brought home to his district. You can't get much more hypocritical than that.
Or can you?
In a widely distributed franked mail piece from 2007 headlined "Issue Alert: Medicare Cuts," Reichert touts his opposition to "devastating cuts" in senior benefits: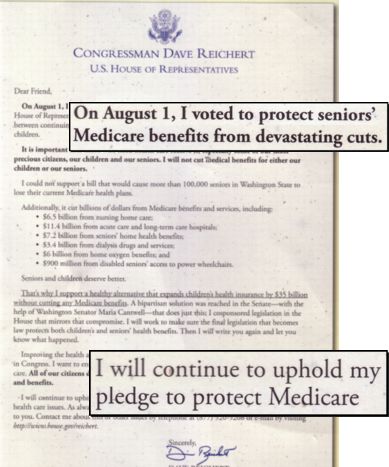 In this taxpayer funded mailer, Reichert promises to "uphold my pledge to protect Medicare," from, you know, all those social service slashing Democrats in Congress.
And what kind of pledge exactly is Reichert talking about? Well, judging from this clip from May of 2006, back when he thought he and his fellow Republicans would still control Congress in the coming session, it wasn't much of one:
Yup, when Reichert talks about taking a "closer look at government waste," the first place he looks is Medicare and Medicaid, because "you get the biggest bang for the buck when you cut those programs."
Wow. That's some pledge.
Reichert has sent out over one million pieces of franked mail since winning reelection in November, 2006—none of them fact checked by media truth squads, none of them rebutted by the opposition, and all of them paid for with taxpayer money. He uses his franking privileges to create a demonstrably false impression about his votes in Congress and his stance on the issues.
And as far as I can tell, our local editorialists and columnists just don't seem to care.
UPDATE:
The video clip above is ©2006 by TVW. You can view full coverage of Reichert's speech here.
UPDATE, UPDATE:
YouTube has pulled the clip at TVW's request, so exercising my rights under the fair use exemption, I have reposted the clip using a different service.