From the TNT's Political Buzz:
It seems Sheriff Dave has changed his Web site, which for months touted a rating showing him being the second most effective House member from Washington state during his first term. But according to the Democrats, sometime earlier this month that reference was dropped from his Web site. Reichert is now listed by congress.org as the least effective Washington state member and 401st out of the 439 House members.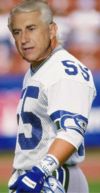 No doubt House Republican leaders had high hopes for the silver haired Sheriff when he first came into Congress, gifting him plum committee assignments that bumped up his rookie year ratings. But in the three years hence he's proven the biggest local bust since Brian Bosworth, trailing fellow WA Republican Rep. Cathy McMorris-Rodgers by a wide margin, along with 32 (out of 40) other members of his class.
The TNT points out that "the party in control sets the agenda, which affects the ratings," and that's good perspective, but so is the fact that when you compare apples to apples, Reichert now ranks only 171st out of 200 fellow House Republicans. Of course, that's still better than 29 other GOP House members, some of whom aren't even retired, indicted, behind bars or dead.
Why Reichert would choose to highlight his downward spiral, I don't know. I suppose that explains the sudden web site edit.