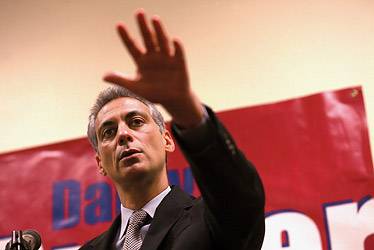 See that banner behind the picture of DCCC chair Rahm Emanuel in this week's issue of TIME magazine? Know what it says?
D a r c y
B u r n e r
The article says a lot about Burner too:
Darcy Burner knew that prospective Democratic candidates sometimes left in tears after meeting Representative Rahm Emanuel of Chicago, who heads the party's efforts to recapture the House and was the one-man screening committee for recruits. Burner, an alumna of Harvard and Microsoft, didn't cry. But she found the wiry former Clinton Administration official as ruthless as any corporate chieftain she had known, as he went down a checklist of questions, including one at the top he had written to himself: Is she worth the investment of my time and the committee's money?

"Apparently, it didn't occur to him that I could read upside down," Burner recalls. Or maybe he didn't care. Either way, at the end of all his queries about polls and consultants and budgets, she asked him, "How are we doing on No. 1?"

"The jury is still out," Emanuel said with studied bluntness.

Burner, who wanted to run in a district that stretches from wealthy Seattle suburbs to farmland at the base of Mount Rainier, passed muster. Now the two are bonded on a historic adventure–the Democrats' increasingly promising quest to evict Republicans from the leadership suites they have occupied for the past dozen years. "This Microsoft mom is going to be part of us taking back the Congress," Emanuel said hoarsely at a rally in a Mercer Island, Wash., community center last week.

Equal parts coach, babysitter and disciplinarian, Emanuel, 46, has groomed Burner and 21 other varsity challengers–seven more than the number of seats that Democrats need to take control of the House.
And if that doesn't put to rest the righties' wishful thinking that Burner isn't a top tier challenger, perhaps President Bush's upcoming trip to raise money for the struggling Reichert will. Not too many House Republicans get (or want) that type of attention, but Reichert's getting desperate.