The election season normally translates to days of plenty for the news industry, with campaigns vying for prime ad space by flinging buckets of cash at print, broadcast and internet media companies. But apparently, not so much these days for the Seattle Times, which recently sent this rather desperate promotion to local political media buyers: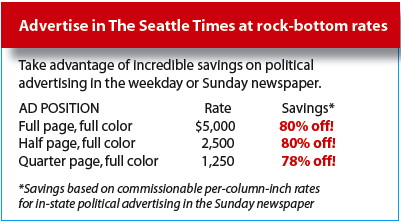 A full page, full color ad for only $5,000? At that price, they could pretty much print nothing but full page, full color ads, and still not cover their costs.
And don't think the Times is making up the lost revenues online, where advertising opportunities now "start at less than $2.75 CPM." That's not much more per page view than I'm earning this month from Google Ads.
I guess premium content demands premium ad rates. And vice versa.