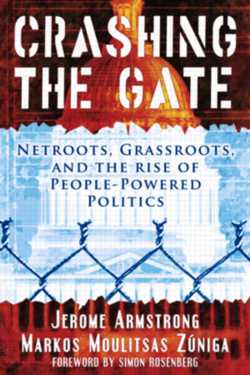 Markos Moulitsas Zuniga of Daily Kos fame, and his co-author Jerome Armstrong of MyDD will be in town this week promoting their new book, "Crashing the Gate: Netroots, Grassroots, and the Rise of People Powered Politics."
Please join me tonight in welcoming Markos and Jerome to Seattle:
Friday, April 7th, 7:00 p.m.
Seattle Labor Temple
2800 1st Ave, Hall 1
Seattle
There will be a discussion, Q&A, and book signing, open to the general public and the media. Think of it as a very special edition of Drinking Liberally… but without the drinking. (Though expect there will be some of that afterwards.)
If you can't make it tonight, there will be to more opportunities tomorrow (Saturday, April 8th) to meet the authors:
11:30 a.m. to 2:00 p.m.
Marymoor Park
6046 West Lake Sammamish Pkwy NE
Redmond
7:00 p.m.
Orca Books
509 E 4th Ave
Olympia
Again, all the events are open to the public, no reservations needed, so please come out and show your support for Markos and Jerome, and the tremendous work they are doing in building the netroots and transforming the Democratic Party.
NOTE:
I'm out playing the role of "publicity flak for a day," so consider this one and only post an open thread. There will be media availability at all three events, so if you are a journalist looking for some one-on-one, please contact me, or just show up and we'll do our best to accommodate you.