Details are starting to emerge about suspected cop-killer Christopher Monfort, and not surprisingly, he sounds a little crazy. And as it turns out, he's also a pretty crappy artist.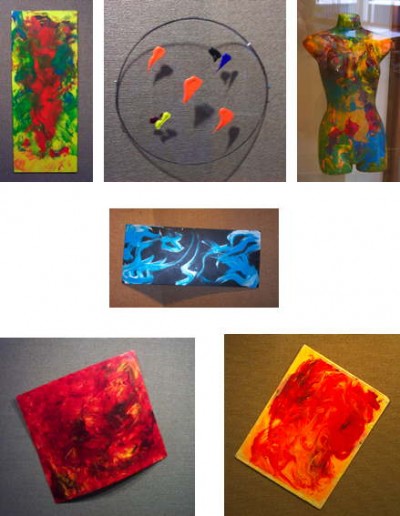 Really. Those are images from a 2003 art exhibit of Monfort's titled "No War" at Highline Community College. Kinda creepy.
From the exhibit's web page:
Chris Monfort has been seriously painting for two years, and plans to continue throughout his life. He does not believe in any particular set of rules as far as artistic expression is concerned, and his work portrays this freedom. He has a love for color and motion, particularly during long gloomy winters. His apartment is full of colorful paintings. He says, "they give me the energy that's missing from our sunless winters!"

Monfort plans to complete two degrees before leaving Highline; a transfer degree and a degree in Administration of Justice. He then plans to earn a bachelors degree and possibly head for Harvard Law School. His alternate plan is to earn a Masters degree and teach at a college somewhere warm!
I guess life didn't turn out quite the way Monfort expected. It rarely does. But disappointment doesn't lead most of us to cold blooded murder.