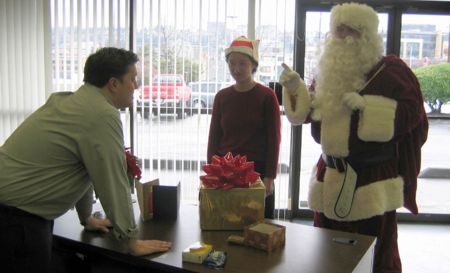 Santa Claus and a cute little elf visted Mike McGavick's campaign headquarters today to deliver an early Christmas present from the insurance industry to their favorite little boy: $14. 3 million in stock options. (FYI, I heard from an eavesdropping reindeer that the McGavick staffer in the photo yelled at Santa. Talk about a war on Christmas….)
I'd already reported the $4.5 million in accelerated vesting that Safeco is giving McGavick as a parting gift, but while he claimed he was leaving the company at the end of the year, now it turns out he plans to stay on the payroll through January 26… just in time to vest another $9.8 million in options.
And McGavick must have been a very good boy indeed, as he's also still eligible for an undisclosed 2005 bonus.
All this makes me wonder… if the insurance industry wanted to skirt the campaign finance laws and make huge contributions directly to the McGavick campaign… wouldn't this be exactly how they'd do it?