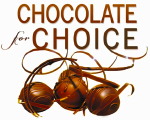 One of my favorite perks of being a progressive blogger is my annual invitation to serve as a VIP judge at one of my favorite events, NARAL/Pro-Choice Washington's annual Chocolate for Choice.
This year's celebration of the anniversary of the Roe v. Wade decision will be held this Thursday, January 21, from 7PM to 9PM at the First Base Club at Safeco Field (take the pedestrian bridge from 5th floor of the garage across Edgar Martinez Drive), and features generous samplings from 40 of Seattle's finest bakers, pastry chefs and chocolatiers. Admission starts at $40 ($45 at the door).
It's also one of my daughter's favorite events; no doubt as I'm filling out my scorecard, Katie will be busy filling up my carry-out box with chocolaty treats. Hope to see you all there.