The Seattle Times editorial board urges Gov. Gregoire to be "careful" regarding the state budget…
Its additions were modest, and the $0.015 billion the governor vetoed was helpful in that regard. So was the $0.85 billion ending savings account. But these changes were on the top of a total — $33.7 billion in a two-year cycle — that was not modest. In four years, state spending has risen by 33 percent. […] Some of this spending was necessary. But the across-the-board spending has meant the state was not able to lower taxes in any substantial way.
Yeah, well, there are reasons to be careful regarding the state budget in the face of an antiquated tax system that virtually assures a longterm structural deficit, but not for the reasons the Times suggests. Indeed, every time they trod out Rossi's intentionally misleading "33 percent" number — without offering readers the appropriate budgetary context — the Times does a great disservice toward the cause of fiscal stability.
Yes, the state budget has grown by about a third over the past four years, and no, that rate is not sustainable when compared to longterm budget forecasts, but our state government's growth has absolutely been "modest" by any meaningful economic measure. In fact, a January 2007 analysis by the Washington State Budget & Policy Center clearly shows that general fund spending under Gov. Gregoire has merely followed the same trend established during the 1990s.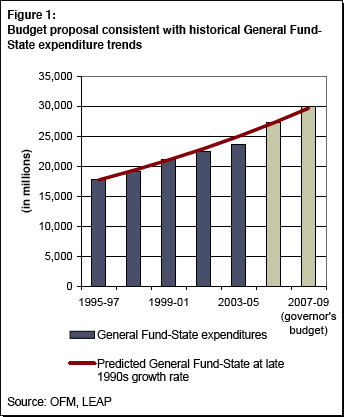 The Times would have you believe that it was the spending increase under Gov. Gregoire's watch that is the anomaly, when in fact it was the slower spending growth during the national recession and tepid recovery that actually fell below historical growth levels. Gov. Gregoire's budget merely returned the state to the established trend.
Indeed, as a share of the total state economy, Gov. Gregoire's budget actually represents a reduced investment — a smaller share of state resources than any of the six budgets that directly precede it.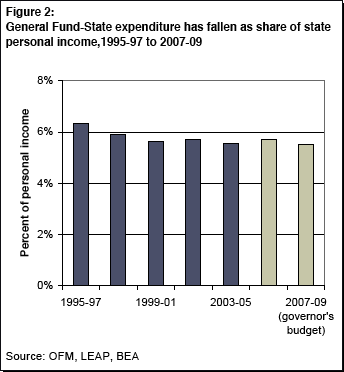 Anti-government/anti-tax critics can spout all they want about rising spending and per-capita tax increases, but those numbers are entirely meaningless when taken out of context… as they usually are. Read the academic literature and you will find that the most common metric used in comparative studies of government spending, and for analyzing the relative growth of both expenditures and revenues, is spending/taxation as a percentage of personal income.
The reason is twofold. First, the economic metric that most closely tracks long term growth in demand for government services is growth in total personal income. That is because many of the services provided by the government are commodities, and as personal income increases, so does consumption. As our state grows wealthier, demand for government services increases faster than population plus inflation.
The other reason to focus on personal income is that it is the only metric that tracks individual taxpayers' ability to pay. The state invests in things like transportation and education and law enforcement — investments that provide the infrastructure necessary for our economy to grow and for all our citizens to prosper. Thus a spending increase, even when accompanied by an increase in marginal tax rates, does not increase the real burden on individual taxpayers if it results in a corresponding increase in personal income.
So how does our state stack up in terms of state and local taxes as a percentage of personal income? Again, according to the Budget & Policy Center, Washington currently ranks 36th nationwide… and falling.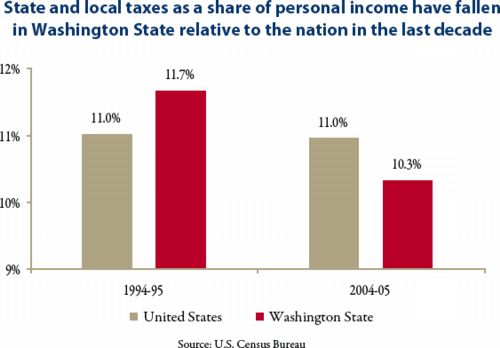 There is a legitimate debate to be had over the proper size and scope of government, and the priority in which we make public investments, but it is fundamentally dishonest to enter this debate by reinforcing the common misconception that our state government is out of control, when by the most meaningful measure — the government's total share of our state's economic resources — even a four-year 33-percent increase represents a decline from historic trends. And it is equally dishonest to profess a concern for fiscal responsibility by focusing solely on budgetary expenditures while refusing to address the revenue side of the equation.
Washington state not only boasts the most regressive tax structure in the nation — one in which the bottom 20% of wage earners pay a whopping 17.6% of income in state and local taxes while the wealthiest pay only 3.1% — our tax system is also based on an antiquated, early 20th century model that over-relies on an ever shrinking portion of our 21st century economy: the manufacture and sale of goods. Economic booms can mask this structural deficit in the short term, but because our economic growth is increasingly occurring in sectors that remain un- or under-taxed, longterm revenue growth simply cannot keep pace with growth in demand for public services… at least not without raising marginal tax rates, shifting an ever greater burden on exactly those families who can least afford it.
The Times and other critics have repeatedly cautioned about unsustainable budget growth while refusing to articulate which programs and services they would see slashed, or displaying an ounce of willingness to discuss the kind of fundamental tax restructuring that might allow state and local government revenues to reliably keep pace with both economic growth, and with the growth in demand for public services. If the Times editorial board wants a smaller state government — if they want to see less per capita real dollars spent on education, transportation, law enforcement, children's health care, and other essential services — they should just come out and say it; we would all benefit from an honest debate. But the sort of disingenuous budgetary "concern trolling" they display in today's editorial adds absolutely nothing to the discussion.