Ted Van Dyk is voting for Susan Hutchison, not because she's qualified to run anything more complicated than Charles Simonyi's social calendar, but because Van Dyk thinks Dow Constantine is too partisan:
Democrats enjoy a huge registration edge in the county. Constantine, therefore, has based much of his campaign on his long partisan affiliation, in contrast to former TV anchorwoman Susan Hutchison's uncertain affiliation. (Hutchison says she is a genuine independent who has voted for both Democrats and Republicans and who is endorsed by both Democrats and Republicans). More recently, Constantine's allies have attacked Hutchison on the basis that she might not be pro-choice.

As the general-election campaign has proceeded, Constantine has diminished himself with his low-politics tactics. (Neither partisan leaning, in a nonpartisan office, nor presumed position on a social issue has anything to do with the duties of the King County executive).
Uh-huh.
But then, I guess such an attitude shouldn't be surprising, coming from a man who clearly pines for the high-minded bipartisanship of a long lost era, when even a Democratic stalwart like Van Dyk could be counted upon to deliver suitcases full of $100 bills to President Richard Nixon's private attorney.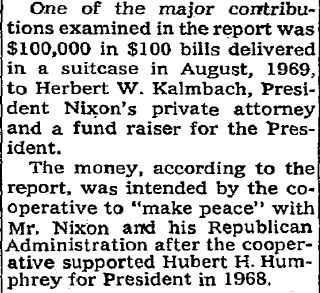 […]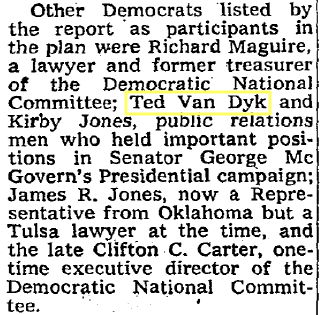 Now that's what I call bipartisan cooperation.
According to transcripts from the Watergate hearings (yes, the Watergate hearings… Van Dyk's name comes up surprisingly often in the transcripts), the amount of money funneled to the Nixon administration from this milk industry co-op was closer to $900,000, not the $100,000 originally reported in the New York Times, but who am I to quibble? The point is, according to Van Dyk (who later served as a milk industry lobbyist), bipartisanship is a good thing that always leads to better and less corrupt government than that nasty partisan stuff Constantine practices.
I'm just sayin'….