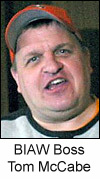 The Building Industry Association of Washington's Tom McCabe is an idiot, an asshole and a liar:
So this is what it looks like when the extreme environmentalists get their way.

For two decades, enviros in our state have been striving to shut down homebuilding.

No-growthers have argued, litigated, legislated, and lobbied for every law, regulation, tax and impact fee designed to stop homebuilders from building homes.

Enviro groups with righteous-sounding names like Futurewise and Earth First! fight against virtually every single development and every single homebuilder.

State and local government agencies such as the Department of Ecology and the Puget Sound Partnership join the fray as well.

All these self-anointed priests of nature want to stop growth. Well, they succeeded.

Growth has stopped. Housing starts in our state have been reduced 67 percent (from 52,000 to 17,000) since 2005.

The enviros won.
McCabe then goes on to list the litany of economic woes allegedly caused by environmentalism run amuck, including skyrocketing unemployment, a ballooning, multi-billion dollar state budget deficit, a decline in charitable giving, and even the collapse of the newspaper industry. Which begs the question: how confident is McCabe in the rationale behind the BIAW's political and policy agenda that he and his organization seem so keen on aggressively courting the stupid vote?
Really, how absolutely imbecilic or even anencephalic do you have to be to believe that the Great Recession was caused by excessive environmental regulation rather than, say, the catastrophic, nationwide collapse of the housing bubble and the fantasy-collateralized mortgage industry that inflated it? I mean, doesn't the minimum mental capacity necessary to read McCabe's column already make one too smart to fall for his laughable line of unreason? Hell, I feel kinda dumb just bothering to refute him.
For years, the BIAW and its members profited handsomely off an unsustainable housing market fueled by cheap-money induced visions of endless double-digit appreciation, and now that they've come down from their trippy, mortgage-fraud-huffing high, they blame the enviros? (You know, just like they blamed the enviros for the Holocaust.) No wonder the BIAW is attempting to pad its coffers with a self-serving, workers compensation privatization initiative; all that crack they've been smoking must cost a lot of money.
(And for those of you who have trouble discerning the difference between metaphor and allegory… yes, I am accusing McCabe of smoking a lot of crack. He's a base crazy, crackerjacked, political bag bride. How else to explain his column?)
I'm just sayin'.