It's been two months since I first started covering Washington Attorney General Rob McKenna's refusal to fulfill his statutory obligation to represent Commissioner of Public Lands Peter Goldmark, and six weeks since the dispute (as predicted) exploded into a full blown constitutional showdown. And today the Seattle Times finally covers the story with more than a cursory blog post: "Methow power-line fight turns into Supreme Court showdown."
Of course, the article comes more than a month after the tiny Wenatchee World became the first (and until now, only) newspaper in the state to assign a staff reporter to cover the story, and it's kinda frustrating to see environment reporter Craig Welch covering such a complicated legal issue when he easily could have devoted all 1,200 words to the complicated environmental issues surrounding the proposed power-line through virgin Methow Valley land (is there really no full time legal reporter in the entire state?), but the Times did publish the story front page, above the fold, so I suppose beggars can't be choosers and all that.
Still, the article does serve as a reasonable introduction to the story for those readers who don't frequent either HA or WW, especially the accompanying graphic that illustrates how the entire proposed line runs less than five miles east of an alternate route along Highway 153, much of it less than a mile from the existing highway right of way.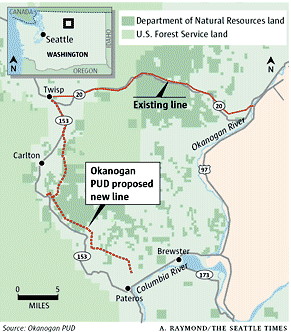 Hopefully Welch will be given the go ahead to delve deeper into the environmental issues surrounding this controversy, but for the moment, here are a few observations and elaborations on today's piece:
The fight over the future of the shrub-steppe grasslands above the shimmering Methow River has become what few could have predicted: a constitutional feud between the heads of two state agencies.
Well, at least one person predicted it. Way back on June 16 I warned that McKenna was plunging our state into a "constitutional crisis … that could ultimately lead to a Supreme Court showdown." Yup, HA readers were once again kept way ahead of the curve.
It's become a political feud — one that Republicans say Democrats simply have manufactured in hopes of tarnishing a possible GOP contender for the 2012 governor's race.
To be absolutely clear, I immediately saw this dispute as a tremendous opportunity to tarnish McKenna from the moment the first press release arrived in my inbox — that was in fact what sparked my initial interest — but DNR never proved as cooperative as I had hoped. Goldmark's goal from the onset was clearly to pressure McKenna into providing an attorney, and his office was never willing to furnish me with potentially damning correspondence from the AG's office. In fact, I've never even managed to get Goldmark to provide me a juicy quote. So whatever the "hopes" of me and other "Democrats," as the only journalist who has covered this story from day one, I can assure you that Goldmark never showed any interest in playing that particular game.
"I believe it's squarely the duty of the attorney general to carry out legal issues at my request," Goldmark said, adding that he believes those duties are spelled out in state law.

McKenna argued his duty extends beyond Goldmark. He said his team of lawyers asked the same questions they do for all appeals: Did the trial judge err? Is there a good legal argument? Could new precedent damage other agencies?
I have extensively analyzed the legal issues surrounding McKenna's statutory duties, for example here, here and here. It's worth reading if you're interested in learning more.
Opponents are represented by wealthy Seattle environmental attorney Peter Goldman, a contributor to Democrats who also happens to be one of Land Commissioner Goldmark's most outspoken supporters. … Goldmark's critics contend he took on the battle because it was important to Goldman — a charge Goldmark denies.
Um… Goldman is representing opponents because he's an environmental attorney, and this is what environmental attorneys do. As for Okanogan County born and raised Goldmark, the Methow Valley is his own backyard, and I'm told he's walked much of the proposed power-line route with his own two feet. So to imply that Goldmark is fighting to preserve Common School Trust Land in his home county as some sort of payback to Goldman is, well, absurd, especially to anyone who has ever spent any time talking to Goldmark. He is most definitely not your typical politician.
It's Goldmark's job to manage state public lands, and it's McKenna's job to represent Goldmark in that capacity. And that is what the pending Supreme Court case is all about.