Auburn WA's annual Good Ol' Days celebration advertises itself as a "Rip Roarin' Whoop Dee Doo" in which locals "Celebrate like they did in the Good Ol' Days!"
Well judging from this photo snapped by HA reader Kevin Barry at yesterday's Grand Parade, way back in the Good Ol' Days, Auburn was apparently a part of the Good Ol' Confederacy. Huh. Who knew?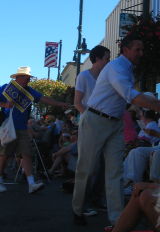 Struck by the incongruity of seeing a Confederate flag proudly paraded down the streets of Auburn (followed only a few moments later by a glad-handing Dino Rossi), Barry forwarded his pictures to Auburn City Council members and event organizers, asking if there is "really a rash of southern pride and confederate heritage here in the deep Northwest?"
To which Auburn Mayor Pete Lewis promptly responded:
"That was part of the Optimists public remembrance march for a very good and kind man named Joe Jenkins. Good Old Days is a privately run and funded event and the Optimists were paying tribute to a fallen hero."
Joe Jenkins was apparently a longtime local volunteer and community leader whose contributions are no doubt worth honoring, but unless he was "a fallen hero" of the Civil War — and, you know, fought for the South — I fail to see the appropriateness of remembering him with a Confederate flag.
In Auburn, Alabama maybe. But Auburn, Washington… not so much.
And while I suppose the Optimist Club has the right to parade a Confederate flag down public streets — free speech, and all that — it's had to imagine why Mayor Lewis would defend it, so callously dismissing Barry's legitimate concerns. To many Americans, the Confederate flag is a symbol of racism, oppression and hatred, especially when displayed outside the cultural milieu of the Deep South. So if Joe Jenkins was as "good and kind" as Mayor Lewis says he was, would this really be how he wanted to be remembered?
Or maybe, as a relative newcomer to the region, I simply have no idea what the "Good Ol' Days" were like in cities like Auburn?