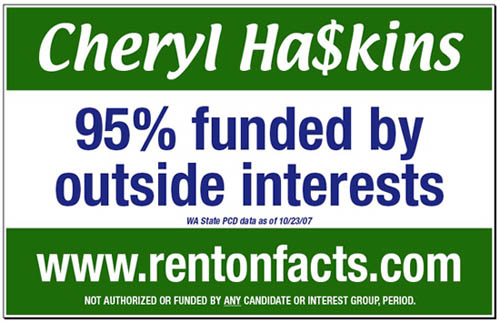 The candidate, Cheryl Haskins, is the Executive Director of an anti-gay marriage group, and her husband is a pastor of a conservative megachurch north of the city. She is African-American, a fact which makes her candidacy attractive to many voters in the racially diverse community, which currently has no people of color on its city council. Until recently, however, her anti-gay political activism and ties to the Religious Right were not part of the political discourse, and with her campaign signs and huge billboards plastering the city, she was destined to win the election without controversy.
Only five percent of Haskins' contributions have come from within the city of Renton. This isn't so great for a self proclaimed ten-year resident.
Haskins' is also on the board of Alliance for Marriage and Children along with her husband Aaron Haskins, who is employed by City Church in Kirkland. A huge amount of Haskins' contributions have come from donors with ties to City Church. (Ties to working-class Renton? Not so much.) We should all remember that Alliance for Marriage, with all their feel-good, up-with-people rhetoric, worked hard to protect an employers ability to fire a person simply for being gay or lesbian.
For more info, check out rentonfacts.