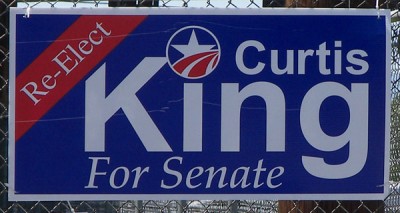 So, state Sen. Curtis King (R-Yakima) won his special election last year with 81-percent of the vote… and yet this year he's putting up signs without any party identification, but with an Obamaesque logo dotting his "i". If you ask me, that's a pretty bad sign for Republicans, both literally and metaphorically.
It used to be that candidates were required to identify their party on all their campaign materials, but I'm guessing that rule was thrown out when the top-two primary came in. So now Republicans are permitted to campaign without identifying themselves as Republicans. So much for a well informed electorate.
What a bunch of weasels.