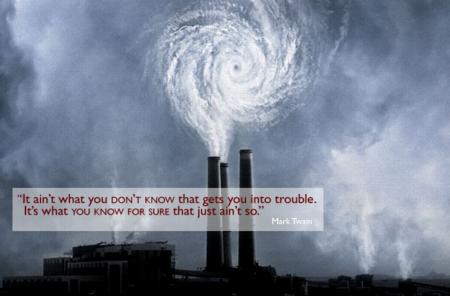 The biggest blockbuster movie of the summer won't be M-i-III or United 93 or even the Da Vinci Code. Sure, they may draw a little more audience, but the biggest film this summer, in terms of impact, is going to be a documentary based on a lecture by a former politician with a reputation for being dry and stiff.
Of course, I'm talking about Al Gore's An Inconvenient Truth.
The movie's trailer (which I strongly urge you to watch) bills itself as "By far, the most terrifying film you will ever see." And I don't believe that is a typical, Hollywood overstatement.
The film is based on Gore's touring presentation on global warming, which I had the privilege to attend a few weeks back in Seattle. Frankly, I was stunned, not so much by the scientific research — I already knew most of that — but by the way Gore so compellingly connected the dots to drive home the full impact of our impending global climate crisis.
An Inconvenient Truth has the potential to change minds and move people to action, and thus deserves all the hype it can get. It opens May 24 in select markets, and Friday June 2 in Seattle. The film's website asks you to pledge to see the movie on the opening weekend, and I'd like to try to organize a group here in Seattle.
The film will be playing at The Guild 45th and the AMC Pacific Place. (I'll post show times as soon as I have them.) Please let me know in the comment thread, or via email, if you're interested in joining me.
UPDATE:
Richard Cohen describes the film:
Boring Al Gore has made a movie. It is on the most boring of all subjects — global warming. It is more than 80 minutes long and the first two or three go by slowly enough so that you can notice that Gore has gained weight and that his speech still seems oddly out of sync. But a moment later, I promise, you will be captivated, and then riveted, and then scared out of your wits. Our Earth is going to hell in a hand basket.

You will see the Arctic and Antarctic ice caps melting. You will see Greenland oozing into the sea. You will see the atmosphere polluted with greenhouse gases that block heat from escaping. You will see photos from space of what the ice caps looked like once and what they look like now and, in animation, you will see how high the oceans might rise. Shanghai and Calcutta swamped. Much of Florida, too. The water takes a hunk of New York. The fuss about what to do with Ground Zero will turn naught. It will be under water.