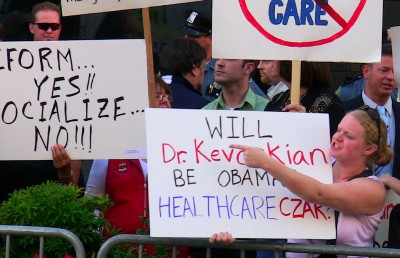 One thing to note about yesterday's pro-health reform rally is that there were no violent confrontations between supporters and counter-protesters… which is really too bad, because with a few thousand of us and only a couple dozen of them, we could've really kicked us some teabagger ass.
Oh, it's not that I advocate violence, it's just that apparently that's the only way we're going to get any media attention, for on the same day that the Seattle Times totally ignores a massive—and peaceful—pro-reform rally in its own backyard, it sees fit to reprint an AP story on the finger-biting incident Los Angeles.
Large, peaceful, pro-reform rally in Seattle: not newsworthy. Isolated and bizarre finger-biting incident in LA: stop the presses! That's the level of coverage of the health care debate we're getting in Seattle.
Next time, perhaps I'll show up at one of these events armed to the teeth and swinging a samurai sword; betcha that's worthy of a headline.