Yesterday I wrote about how headline writers can influence the perception of news.
At first, the front page of the Seattle Times website reported on new crime statistics with the alarmist headline, "Seattle sees sharp increase in crime." Later, they walked the headline back to the less provocative and more accurate, "Seattle sees increase in crime after two record-low years."
Meanwhile, both headlines linked to the same article with the same confusingly written headline: "Sharp increase in Seattle robberies, assaults; murders, rapes down." (I'm betting I'm not the only one who initially missed the semicolon.)
But after stumbling across a print edition of the Times (it was being used as a coaster in a bar), I'm not sure what all the online indecision and confusion was about: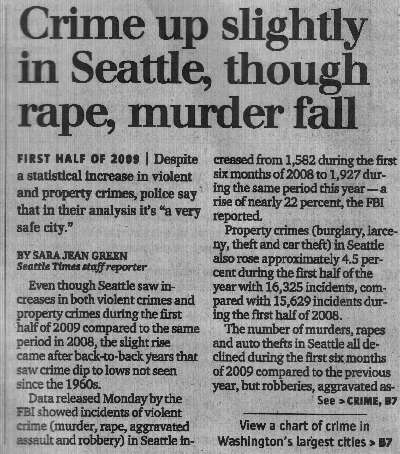 I dunno… looks to me that the headline in the print edition got it just about right. Why couldn't the online edition just go with that?
It never occurred to me before, but are different editors writing the headlines for the online edition than the print edition, and if so, what could possibly account for translating "up slightly" into "sharp increase" other than a desire to use hyperbole to trick readers into clicking through?
If online really is the future of news, it doesn't bode well that the Times apparently holds its online edition to a lower standard than its print.