During these weeks I've been championing a high-earners income tax, I've gotten a lot of incredulous and/or angry pushback from critics.
It's a slippery slope, I've been warned; the tax brackets will eventually creep down and the rates creep up until we're all paying an income tax we can't afford.  It's just one more tax, I've been told, on top of the property and sales and gas taxes etc. we already pay, which will never go down once an income tax is tacked on. And besides, who wants the hassle of filing all those complicated state tax forms?
And then there are our righty trolls, instinctively defending the welfare of the wealthy.  For despite the fact that their state and local taxes currently amount to but a tiny portion of their personal income compared to that of lower and middle income taxpayers, per capita taxes on our most affluent citizens already comprise a disproportionate share of the total revenue stream. Thus to increase their burden any further would be unfair, and indeed, immoral.  Or so we're told.
So let me suggest a compromise proposal for implementing a state income tax while addressing all of the concerns above, which for the sake of convenience, I've dubbed the "Washington Model."
Under the Washington Model we would repeal all of our existing taxes—sales, property, B&O, gas, tobacco, everything—and replace the revenue with a single, broad-based income tax that would be paid by every household in the state, regardless of income, and with no exemptions, deductions or loopholes of any kind.  You earn $16,000 a year, you pay taxes on $16,000.  You scrape by on $1.6 million, you pay your state income tax on that, regardless of how you earned (or unearned) your money.
One tax, and everybody pays it.  Couldn't be fairer or simpler than that, and best of all, we'd all know exactly how much our government is costing us, all the better to judge whether we're getting a value for our tax dollar.
But wait… what about the unfortunate wealthy?  At a flat rate of 8.9%, roughly equivalent, on average, to what we currently pay in state and local taxes, a family earning $1.6 million a year would pay $142,400, compared to only $1,424 for the family earning $16,000.  That hardly seems fair.
So clearly, we need to move to a graduated income tax… though not quite graduated in the direction we've come to typically expect.
No, under the Washington Model, in an effort to more fairly treat the affluent families who, after all, pay the bulk of our taxes, our graduated income tax would be graduated regressively, attempting to even things out by placing the highest rates on the lowest income brackets, and the lowest rates on the highest.
| Annual Income | Tax Rate |
| --- | --- |
| Less than $17,000 | 17.6% |
| $17,000 – $31,000 | 12.8% |
| $31,000 – $48,000 | 11.1% |
| $48,000 – $75,000 | 9.2% |
| $75,000 – 143,000 | 7.4% |
| $143,000 – $922,000 | 5.2% |
| More than $922,000 | 3.1% |
Under this much fairer system, a family earning $1.6 million a year would now pay $49,600 in state and local taxes.  That's still a helluva lot more than the mere $2,816 paid by a family earning $16,000 year, but it's a lot fairer than it was before.
Sound crazy?  Would anybody in their right mind propose a backwards system that taxed families earning less than $17,000 a year at 17.6%, while taxing families earning over $922,000 at only 3.1%?  Is there a snowball's chance in hell that even the Seattle Times editorial board, let alone voters, would ever approve such a brutally regressive and mind-numbingly stupid tax system?
Well… welcome to the Washington Model, for substitute our current sales, property, B&O, excise and other taxes and fees for the proposed regressive income tax above, and that's pretty much the same system we have now.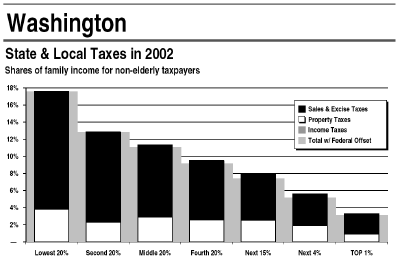 Change can be scary, and that makes it emotionally easy to defend the status quo.  But intellectually?  Not so much.