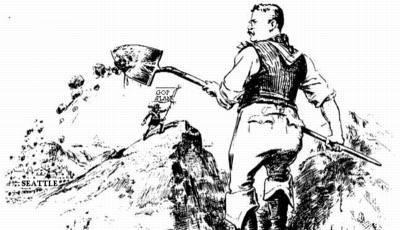 Artist rendering of construction of Rossi's waterfront tunnel
There has been much debate amongst political insiders this week over whether Dino Rossi's transportation "plan" was a smart political move. Oh, everybody agrees it is dumb policy — a head-up-its-ass, roads-only acceleration of a WSDOT wish list funded by pixie dust and prevarication — but there are some on both sides of the aisle who argue that local voters are indeed gullible enough to believe that enunciating such a plan somehow reflects on Rossi's ability to achieve it. Me… I'm not so sure.
See, the problem with transportation planning in the Puget Sound region and Washington state, is that we're just too goddamn, small "d" democratic to give any public official the moral or legal authority to get things done. Robert Moses himself could descend from Mt. Sinai with a comprehensive transportation plan etched in stone by the hand of God, and it would quickly crumble to dust amidst political squabbling, obstructionist ballot measures, picketing polar bears, and our state taxpayers' profound unwillingness to actually pay for the infrastructure and services we want. Neither our statutory framework nor our political ethos easily accommodates the kind of forceful leadership required to enact, you know… plans.

Hence, a skeptical response from our state's opinion makers might have been expected even had Rossi's numbers actually added up. Which they don't. Prompting even the Seattle Times to politely trash Rossi's proposal in a Sunday editorial that bandies about the words "mushy," "baffling," "troublesome," and "misleading," while charging that the candidate "cha-cha's around the question of what other things the state would do without."
It is hard to imagine the political advantage to be gained from a "plan" on which even the rhetorical cosmeticians at the Blethen Family Newsletter can't manage to slather a little political lipstick. And how could they while describing three of Rossi's major proposals as a "financial sinkhole," "a waste of money" and, well… a political fantasy?
He relies on tolls less than Gregoire but only because he reaches into a currently untappable fund, Sound Transit's pot of gold. For Rossi to accomplish his goals, he would need a Republican Legislature.
Rossi wouldn't just need a Republican legislature to divert Sound Transit's Eastside light rail dollars to roads, he'd need the cooperation of the Sound Transit board, plus a vote of the people. And he's not likely to get any of those of three, anymore than he'll get Seattle voters to approve a waterfront tunnel or residents of the Montlake neighborhood to acquiesce to bulldozing an eight-lane 520 through the Arboretum.
I suppose, technically, it's still a "plan" — it's just a plan for failure. The question editorialists should be asking of Rossi is, does he really not understand how politically unrealistic his proposals are… or does he just not care?