The Washington Post headline blares: "Sen. Stevens Indicted On 7 Corruption Counts." The New York Times is equally direct: "Senator Charged in Scheme to Hide Oil Firm Gifts." Even the Anchorage Daily News is concise, if perhaps a bit too obvious in stretching to achieve balance: "Alaska Sen. Stevens indicted; 'I am innocent'." (Like Stevens is going to claim anything but innocence?)
So how does the Seattle Times, the largest daily in the "Gateway to Alaska" report this story on the 7 count indictment handed down against the US Senate's longest serving Republican?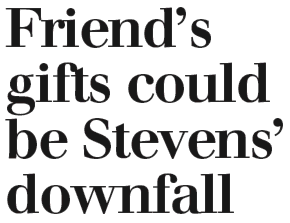 "Friend's gifts cold be Stevens' downfall" …? Jesus, guys… could you soften that headline a little bit? That's kinda like saying "friend's war could be Hess's downfall" (you know… if only he hadn't hung around so much with that nasty boy, Adolph).
Yeah, we all occasionally get gifts from friends, and few if any of us think to report it as income. Why just the other day, a close personal friend of mine jacked up my house and added a new first floor in exchange for hundreds of millions of dollars in government contracts. That's just the kinda stuff friends do for each other.