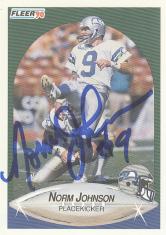 From the Kitsap Sun article:
Former Seahawks kicker Norm Johnson helped pull a woman from her overturned car Monday morning, on his way to taking his son to school.

While driving along Olympic View Road around 9 a.m. Johnson saw a 2001 Pontiac Grand Am that had hit black ice and landed on its top in a large ditch.

Johnson, a real estate agent for Reid Realty, stopped when he saw the car at a 45-degree angle in a ditch filled with water. The woman inside was screaming, and another woman at the scene was calling 911.

The driver of the car had freed herself from the driver's seat and crawled to the back of the car to get away from the water. She was scared and screaming and couldn't get herself out, Johnson said.

Johnson used a large rock to break the glass and helped the woman from the car.

"She climbed out, I gave her a hug and she was just really scared," he said. "She likely was in shock."
Norm Johnson is fourth on the All-Time Points list, but he'll be first in the hearts of his countrymen (and women) from now on. (Josh Brown ain't got nothin' on "Mr. Automatic")
Number Nine slings the rock into the window,smashing the glass… and… and… It's good!