Over on Slog, Josh Feit picks up on my post about a recent poll that showed substantial support for the Sound Transit/RTID $16.5 billion Roads & Transit package.
The numbers, about 61% in favor after a dose of messaging, are pretty positive, and so Goldy seems to be saying, everybody should stop complaining and fretting about a joint measure.
Hmm. I don't think I seemed to be saying that, but Josh is a pretty good editor, so maybe I'm wrong. I thought I was only blowing holes in the common wisdom that the Roads & Transit package was politically DOA.
Like Josh, I'd prefer to see the transit components separated from the roads components so that I could vote for the former while douching the latter, but given political realities I'm not willing to scuttle transit improvements simply because I don't like much of the roads package. On the other hand, Josh seems to be saying that the package is fatally flawed, whatever its current support at the polls:
Goldy's contention that polling looks good doesn't address my biggest fear—in fact, it confirms it: It's going to pass, and we're going to undo the benefits of voting for transit by simultaneously voting to expand roads.

Indeed, here's the polling I'd like to see: light rail on its own and RTID on its own. I'd bet light rail would pass and RTID wouldn't.
Well Josh, I'm not sure it provides much consolation, but the survey did indeed poll the individual components of the combined package, and for the most part, transit consistently out-polled roads. In fact, here are the top scoring components within the Sound Transit District: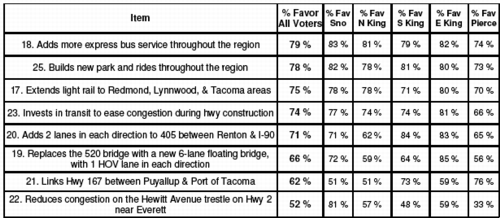 Disagree with my analysis? Read the full poll results and topline summary for yourself. (Oh, and as it turns out, if you read the poll results from 2005 and 2006, voters have been pretty damn consistent.)
UPDATE (FYI):
The survey was conducted on behalf of Sound Transit to help evaluate the 8000 public comments generated through their public involvement process, and is intended to aid the Sound Transit Board's deliberations as they finalize details of the Sound Transit 2 package. The survey was designed under a partnership with Evans McDonough and Moore Information, and with input from RTID consultants. Moore fielded the survey to 800 respondents within the Sound Transit district, which gives the survey a margin of error of plus or minus 3.5 percent.