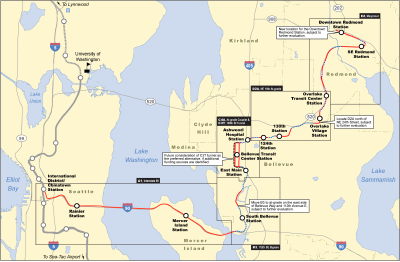 Sound Transit yesterday released its preferred alignment for East Link light rail. (Click the image to enlarge.)
The plan includes the possibility of a Bellevue tunnel, but leaves it up to the folks in Bellevue to find the extra money. And as Ben at Seattle Transit Blog notes:
There is no money for section E. Money Bellevue might find for section C will not make section E affordable – that's the city's choice to fund their own tunnel, and has no bearing on Sound Transit's budget. Also note that section D ends smack in the middle of Microsoft campus, at Overlake Transit Center.
Meanwhile, only 64 days to go before the first segment of Link Light Rail opens between Tukwila station and downtown Seattle.